Wimbledon final watched by peak audience of 16.9m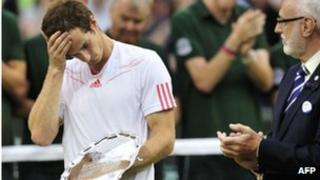 Roger Federer's win over Andy Murray in the Wimbledon final was watched by a peak audience of 16.9 million viewers, according to overnight figures.
The peak came towards the end of the match. The average audience across the four set stand-off was 11.4 million.
It is the second most watched programme this year so far based on peak figures, behind England vs Italy in Euro 2012.
The highest average figure for a Wimbledon final was 17.3 million when Bjorn Borg beat John McEnroe in 1980.
If you include HD and 3D simulcasts in yesterday's figures, the five-minute peak is 17m.
Federer beat Murray 4-6, 7-5, 6-3, 6-4 on Sunday. Murray has now lost all four of his grand slam finals.
Murray became the first British man in 74 years to reach the Wimbledon singles final but could not overcome the powerful Swiss.
He struggled to hold back the tears after his defeat and said later that there was no shame in losing to Federer, who has now won the Wimbledon title a record-equalling seven times.
Victory for Federer means he has now won 17 Grand Slams and returned to number one in the world rankings.
England's Euro 2012 football quarter final against Italy in June attracted an average audience of 20.3m viewers on the BBC, with a peak of 23.2m.
Another England match against Ukraine in the group stages of Euro 2012 - this time shown on ITV1 - was the third most-watched, with an audience of 16.3 million.