Art grotto saved from demolition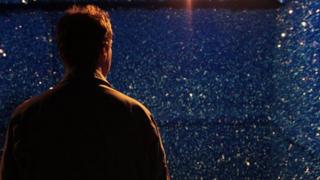 A Turner Prize-nominated artwork, made by covering the walls of a condemned council flat with blue crystals, has been saved from demolition.
Artist Roger Hiorns created Seizure by flooding the flat with copper sulphate solution, leading it to be transformed into a crystal-covered grotto.
There were fears that it would be lost when the flat in Elephant and Castle in south London was demolished.
But it was removed and will now go on display at Yorkshire Sculpture Park.
Seizure was nominated for the Turner Prize in 2009, and was described by one critic as being "like stepping onto the set of a sci-fi or post apocalyptic film set where normal human existence has been interrupted, invaded or eradicated".
It is now in storage and will be displayed at Yorkshire Sculpture Park near Wakefield from next spring.
The work has been donated to the Arts Council Collection, whose sculpture collection is based at the park.
Arts Council Collection director Caroline Douglas told The Guardian that she did not want Seizure to meet the same fate as Rachel Whiteread's House.
A concrete cast of the interior of a Victorian terraced house, the sculpture won the Turner Prize in 1993 but was knocked down by the local council the following year.
Douglas said: "We were all motivated by an enduring regret about what happened to that... and I felt, 'Let's not have that again.'"