Cruise and Holmes reach divorce deal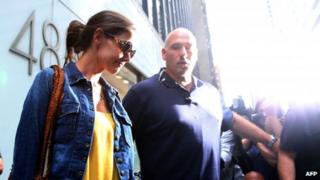 Tom Cruise and Katie Holmes have reached an agreement to settle their divorce, representatives of both film stars have confirmed.
"The case has been settled and the agreement has been signed," Holmes' lawyer, Jonathan Wolfe, said in a statement to People magazine .
"We are thrilled for Katie and her family," he added.
A spokeswoman for Cruise confirmed the settlement in an email to Reuters: "It is done."
The actor's lawyer, Bert Fields, also confirmed the deal in a statement: "Tom is really pleased we got there and so am I."
Representatives for Holmes and Cruise declined to elaborate on the agreement.
Mr Wolfe said in a later statement that terms of the settlement were confidential and will not be disclosed.
In a joint statement released earlier on Monday, the pair said they were "working together" to settle custody of their daughter Suri, six.
"We are committed to working together as parents to accomplish what is in our daughter Suri's best interests," the statement read.
"We want to keep matters affecting our family private and express our respect for each other's commitment to our respective beliefs and support each other's roles as parents."
The divorce has raised speculation among Hollywood media that the couple differed on raising Suri as a Scientologist. Neither Holmes nor Cruise's legal team would comment.
A lawyer for the Church of Scientology denied last week that Cruise wanted Suri to join the Sea Organization, sometimes described as the organisation's militaristic wing.
It was revealed last month that Holmes, 33, was filing for divorce.
It was Holmes' first marriage and Cruise's third. He previously was married to actresses Mimi Rogers and Nicole Kidman, which both ended in divorce. He adopted two children with Kidman.
Cruise also had a three-year relationship with the Spanish actress Penelope Cruz.
Paul Talbert, a family law expert, told Reuters news agency the settlement had been reached quickly for such a high-profile couple.
"Cases with so many moving parts do not routinely resolve themselves in a matter of 10 days. We obviously have one or two extremely motivated people," Mr Talbert said.
"Nobody wins in a messy public battle, and you certainly have two concerned parents here that recognised Suri definitely loses if this is a public divorce."
Eiffel proposal
The divorce brings to an end a relationship that began with very public displays of affection.
Holmes once admitted she had a childhood crush on the Hollywood celebrity, and had kept posters of him on her bedroom wall.
Cruise famously raised eyebrows when he jumped on a sofa on the Oprah Winfrey Show as he declared his love for the actress.
He proposed to Holmes at the Eiffel Tower in Paris and the couple were married in an Italian castle by a Church of Scientology minister.
Cruise, who turned 50 last week, was Hollywood's highest-paid actor in 2011, and has starred in blockbusters such as Top Gun, Jerry Maguire and the Mission Impossible series.
Holmes rose to fame on US television drama Dawson's Creek. She has also appeared in Batman Begins and Don't Be Afraid Of The Dark.