Who was Bush House's tycoon founder?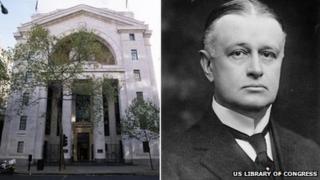 After 70 years BBC World Service radio is leaving its home at Bush House. In World War II the BBC colonised the large London office building created by the US business tycoon Irving T Bush. But who was he? And what was he doing in London?
New York's hectic theatre district harbours an unexpected connection to the BBC World Service. Bush House has a cousin - a little bit older and a lot taller.
A few moments from Times Square stands a 30-storey building which when it opened in 1918 was called the Bush Terminal Sales Building. These days 130 West 42nd Street is known as Bush Tower.
A striking example of so-called Girder Gothic, the skyscraper isn't physically like Bush House. But the two buildings share an architect (Harvey W Corbett) and were financed by the same man - the hugely rich Irving T Bush.
Bush hoped the two buildings would become twin pillars of international trade, permanently joining the old world to the new. Today still the inscription above the main entrance to Bush House in London reads "To the Friendship of English Speaking Peoples".
Bush was born in Michigan in 1869 to a wealthy family originally called Bosch. There's no link to the presidential family. His father Rufus died young and left a fortune.
Irving looked at the site in New York occupied by his father's oil interests and decided to squeeze more profit out of 200 acres of the Brookyln shore.
He built the huge Bush Terminal, which from the early 20th Century supplied goods to New York and beyond. At its peak the terminal boasted 123 warehouses, 30 miles of rail lines and thousands of employees.
Most of the buildings survive though these days they're known as Industry City. The elevated Brooklyn-Queens Expressway thunders past on one side; on the other the waters are a lot quieter than in Bush's day.
Bruce Federman of Industry City Associates says Bush's ambition was limitless. "He exploited benefits of scale and efficiency in a way his rivals couldn't. These buildings were busy bringing in steamer-ships full of tobacco, canned goods, clothing, raw materials..."
Federman is now revitalising the warehouses, bringing in creative industries and medium-size start-ups.
"You have to admire what Bush achieved: he took a fee on everything which passed through. So though he'd never exactly been poor he became a whole lot richer…"
The architect Paul Stoller has studied what Irving Bush did with his shipping millions: "He decided he needed a building in the heart of Manhattan to prove he was now one of America's leading businessmen.
"Possibly the Woolworth Building (1913) had shown the value of having your name on a prominent New York landmark. But Bush decided he could do better than that: he wasn't interested in just offices."
Bush planned a great centre for international trade - much of it to be transported by his companies - and got the architect Harvey Corbett to incorporate unusual features in the skyscraper he commissioned.
The first three floors were clubrooms for traders and guests in which to relax. The rest of the building housed flexible spaces where goods could be displayed and deals struck. Bush allowed Corbett to spend money on elaborate detailing inside and out.
'Heart of city'
Paul Stoller says even as the building opened Bush and Corbett were turning their attention across the Atlantic.
"A lot of the money had come from shipping stuff to and from Europe, not least in World War I. So England was the obvious place to go. Except that in 1920s London you couldn't just build a skyscraper."
Instead Bush took a 99-year lease on a big empty plot near the Strand. (The site had been earmarked for new offices for Britain's colonies, but the idea had come to nothing.)
As in New York the plan was for an international business centre, with club facilities. Harvey Corbett designed a group of mid-size, neo-classical buildings, adopting an idiom more Washington DC than Manhattan.
Though a publicity brochure of March 1920 still worked hard to make the New York comparison:
"If you put your finger on the centre of the map of London, you strike the site of the Bush Building. It is not only the geographic centre, but the commercial and business centre, and the heart of the newest and most modern part of the city.
"It is located at the intersection of the Strand, Aldwych and Kingsway. The Strand is the Broadway of London: Kingsway is its 42nd Street".
The Bush Building was to open in phases from 1922 (becoming Bush House in the process). Early tenants included legal firms and advertising agencies. Yet by then its US cousin was in trouble: too few businesses had bought into Bush's concept.
Moving on
Nicholas Ghattas thinks a combination of factors killed off Bush's ambitious plans for international trade.
"From 1929 there was the Depression. And the whole 42nd Street area went downhill badly. By the '40s the tower was known as the Wurlitzer Building after the manufacturer of pianos and organs which moved in".
Mr Ghattas rolls his eyes when he recalls what the place was like when 30 years ago the Dalloul family from Lebanon bought the building.
"It was a dump. Some of our tenants were terrible. We worked hard to get back to something Irving Bush might recognise. A lot of the internal detail has disappeared but these days it's a much nicer building."
The Depression meant that in London too Bush's ideas were scaled back: plans to incorporate a theatre and cafes were dropped. The first illustrations for the building show an enormous central tower which was never built.
Bush died in 1948 and it's unclear if he managed to visit the building which bore his name after the BBC started to move in six or seven years earlier.
The BBC came to Bush House almost by accident. In need of emergency accommodation, it "borrowed" the recording studio of advertising agency J Walter Thompson and then simply took root. Seventy years on, the lease has been dropped and the World Service is moving to Broadcasting House.
Bush failed to turn his buildings in New York and London into twin centres of international commerce. Instead Bush House became a centre of international communication.
After a major refurbishment its owners seem likely to return the building to what it was before World War II - an office building with a variety of tenants.
And no longer will millions of people around the world recognise Irving T Bush's surname on air - even if few knew in the first place exactly who he was.