Stone Roses fan delays "atmosphere" sale on eBay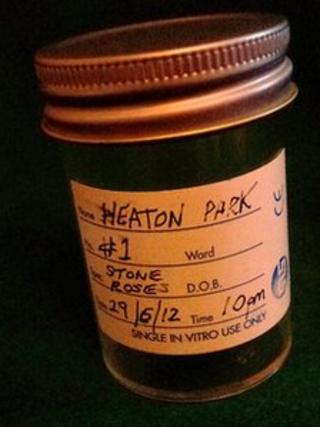 A Stone Roses fan who was selling a container of "atmosphere" from the band's recent reunion concert in Manchester has taken it off eBay.
Bids had reached more than £500 for the item, housed in what appeared to be a urine sample container.
However Gary Finch said he felt it was "not appropriate" to be selling the memorabilia after the death of fellow fan Christopher Brahney after the gig.
Brahney went missing after the Heaton Park show on 29 June.
Greater Manchester Police confirmed that the 22-year-old's body was found on Monday in the Manchester Ship Canal, near Media City, Salford Quays.
More than 120,000 people had joined a Facebook group appealing for help in finding him.
Ebay seller Finch told the BBC: "It wouldn't be right for me to make money out of it now."
He added: "I didn't do it to make money in the first place. I did catch the atmosphere, I did it for a laugh, I didn't really expect anything to happen, it just took off."
Finch's auction listing said the jar of "atmosphere" had been collected "at around 10pm on the opening night" of 29 June, between the songs This Is The One and She Bangs The Drums.
He wrote: "Here is your chance to own your very own piece of Mancunian history... approx 10cc of awesome atmosphere."
He said he was unable to accept bids from people outside the UK because of the "totally electrified and awesome atmosphere in the container".
"It might cause security/health and safety issues being carried in a pressurised aircraft environment."
Originally Finch had said he wanted to give some of the proceeds to a local music project for young people.
Now he is hoping to collect together more pieces of memorabilia from the reunion shows, and is hoping to speak to the band about putting together something bigger in Brahney's memory.
The group have already posted a message on their Facebook page expressing their "sincerest condolences to Christopher's family and friends".
However, Finch added that another eBay seller had already relisted his auction, after copying his original photo and wording. He called the duplication "disgraceful".
The Heaton Park shows were the first major UK gigs by the Stone Roses' original line-up in 22 years.
220,000 tickets for the three concerts sold out in 68 minutes.
The group, formed in Manchester in 1983, recorded just two albums before they dissolved in 1996.