National Theatre winning play set for Westminster Hall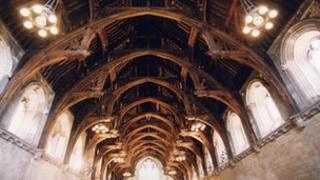 A play written by a 17-year-old schoolgirl is to be performed in the Parliamentary setting of Westminster Hall later.
Londoner Tosin Omosebi won the National Theatre's New Views playwriting competition for her 30-minute one act play, Re-Write.
It will be the first time a play has ever been staged in the 900-year-old building.
The drama will also be performed at the National Theatre on 12 and 13 July.
Performed by professional actors, Re-Write is an absurdist dark comedy set in a psychiatric hospital.
The A-level student from Southall told the BBC she was in shock when she found out she had won the contest, beating more than 170 other entries.
"I didn't believe my teacher at first," she told the BBC. "I kept thinking that maybe they were going to call back or send her an email and say, 'sorry we've made a mistake.'"
'A real writer'
The play is being staged as part of the three-month Arts in Parliament festival which brings art, music, dance and poetry to Westminster Hall.
Built in 1097, the venue has been the scene of numerous historic moments in British history including coronations, the trials of Sir Thomas More and King Charles I and the lying in state of the Queen Mother.
New Views is the National Theatre's annual playwriting competition for 15 to 19 year olds, inviting students to write a 30 minute play exploring challenging issues from contemporary society.
National Theatre director and judge Nicholas Hytner called Miss Omosebi "a real writer".
"Her play crackles with excitement and is wonderfully ambitious," he said.
"She is confident enough to play with theatrical form and she has something to say. I'm sure she has a future as a playwright."