Tom Cruise lawyer threatens to sue National Enquirer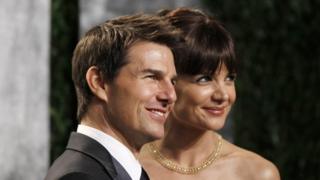 Tom Cruise's lawyer has threatened to sue US publication the National Enquirer, over a cover story branding the actor "a monster".
Bert Fields said the article about Cruise's split from wife Katie Holmes contained "false and vicious lies".
The lawyer said it would cause Cruise "hundreds of millions of dollars of professional and personal damages".
The Hollywood Reporter posted details of his letter to publishers American Media on its website.
Cruise and Holmes have been the subject of headlines around the world since the actress filed for divorce last month, seeking sole custody of their 6-year-old daughter Suri.
Earlier this week, the couple agreed to a divorce and custody arrangement, but details were not made public.
A previous joint statement said the pair were "working together" to settle custody in Suri's best interests.
The divorce has raised speculation among Hollywood media that the couple differed on raising Suri as a Scientologist, however this has not been commented on by either party.
Cruise's Los Angeles lawyer Fields said the National Enquirer's disparaging descriptions, concerning his treatment of Holmes and his daughter, were a "scurrilous attack" on his client.
He wrote: "Please consider this a demand that you immediately retract each and every one of your false assertions about Mr Cruise with the same prominence and emphasis as you gave your original false and defamatory assertions."
Cruise, who turned 50 last week, married Holmes in an Italian castle in November 2006 after a very public romance.
It was her first marriage and his third, after previous marriages to actresses Mimi Rogers and Nicole Kidman both ended in divorce.