Chicago to close after 15 years in West End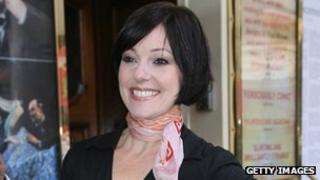 Long-running musical Chicago is to close in London's West End after nearly 15 years.
The show has featured guest stars such as Christie Brinkley, Brooke Shields, David Hasselhoff and Ugly Betty's America Ferrara.
The curtain will fall on its final London performance on 1 September, after taking more than £120m at the West End box office.
Chicago was also made into an Oscar-winning film in 2002.
Barry Weissler, who along with wife Fran produced the show on Broadway and around the world, said bringing the production to the West End was a "pivotal moment" in their career.
"Running 15 years has been a dream come true," he added. "We may be taking our parting shots for now, but the Razzle Dazzle will never fade."
Currently at the Garrick Theatre, the show holds the record as the West End's longest-running revival.
It opened in November 1997 with Ruthie Henshall, Ute Lemper, Henry Goodman and Nigel Planer in the main roles.
On Twitter Henshall said she was sad to hear the show was closing.
She wrote: "I have amazing memories of the best female roles in musical theatre. Truly blessed to have been a part of it".
Over the years, the London show has also featured stars such as Brooke Shields, Anita Dobson, Jill Halfpenny, Kelly Osbourne, Denise Van Outen and Gaby Roslin.
The Broadway production is now in its 16th year, with country singer Billy Ray Cyrus due to start a seven week stint as criminal lawyer Billy Flynn in November.
Directed by Rob Marshall, the film version starred Catherine Zeta-Jones, Renee Zellweger and Richard Gere.
It won six Academy Awards in 2003, including Best Picture.
In London's West End Chicago originally opened at the Adelphi Theatre, transferring to the Cambridge Theatre before moving to its present home.
Composer John Kander said: "The fact that the London audience has embraced our show for 15 years fills me with gratitude and pride."
Olympic medal-winning skater Robin Cousins is joining the cast as Billy Flynn from 17 July.