My Fair Lady has Proms premiere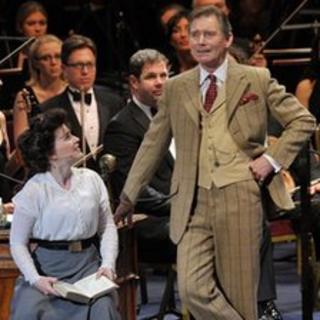 A packed house at the Royal Albert Hall had a "loverly" time on Saturday as classic musical My Fair Lady had its first performance at the BBC Proms.
Brideshead Revisited's Anthony Andrews played Professor Henry Higgins in the part-staged concert, whose finale was greeted with a standing ovation.
The music, based on orchestrations from the Oscar-winning film, was performed by John Wilson and his orchestra.
Ahead of the event, Wilson said the show was "perfect from every angle".
"The reason for choosing My Fair Lady is that the theme running through the Proms season this year is London," the conductor told the Reuters news agency.
Written by Alan Jay Lerner and Frederick Loewe, the musical features scenes at Covent Garden market and the Ascot races.
Adapted from George Bernard Shaw's 1912 play Pygmalion, My Fair Lady features such timeless songs as Get Me To The Church On Time, I Could Have Danced All Night and Wouldn't It Be Loverly.
Sir Rex Harrison and Julie Andrews co-starred in the original 1956 production, with Audrey Hepburn replacing the latter in the 1964 film.
The role of Eliza Doolitte, the Cockney flower girl who seeks to elevate her social position by taking elocution lessons, was played on Saturday by West End actress Annalene Beechey.
'Dramatic dynamics'
Other roles were taken by Alun Armstrong, Sian Phillips and James Fleet of The Vicar of Dibley fame.
Writing on The Arts Desk website, reviewer Alexandra Coghlan said the concert had "the slickness of a long-running show rather than just a one-nighter".
The result, she continued, "matched the Royal Albert Hall's cavernous space for dramatic dynamics".
The evening saw Andrews return to the role of phonetics professor Higgins, a part he played in London's West End in 2003.
His experience in the part did not prevent the occasional vocal stumble, nor a literal one on the stairs leading down to the Albert Hall stage.
Wilson and his orchestra will return to the Proms in August with a concert featuring excerpts from such Broadway classics as Show Boat and Annie Get Your Gun.
The 70-piece orchestra will release an album later this year celebrating the collaborations of Richard Rodgers and Oscar Hammerstein II.