Obituary: Andy Williams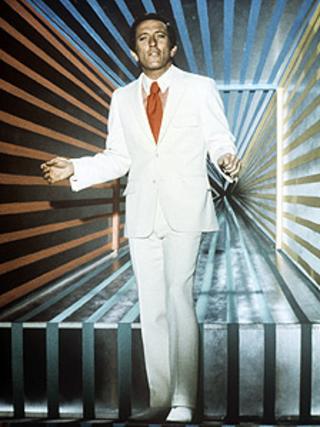 One of the classic American crooners, Andy Williams was a singer and TV host known for his smooth voice and homely charm.
Beginning as a child singer in the 1930s, his career reached its peak in the 1960s and his voice was once described by Ronald Reagan as a national treasure.
Although his brand of easy listening was overtaken by rock 'n' roll, in later life he enjoyed a revival as an icon of a more stylish and sophisticated era.
In a quartet with his three older brothers Bob, Don and Dick in Iowa, Andy began performing on radio stations at the age of eight.
"I loved singing and I loved singing with my brothers," he once said. "We had a very nice, wonderful family life. I just didn't have any childhood."
The family moved to California and the brothers tasted success by singing backing vocals with Bing Crosby on his hit Swinging on a Star, from the film Going My Way, which won the Academy Award for best original song in 1945. Williams was 17.
Embarking on a solo career in the 1950s, he started singing in nightclubs in New York before the burgeoning TV industry provided his next break.
When talk show host Steve Allen launched The Tonight Show in 1954, Williams was an in-house singer - a role he filled for two-and-a-half years, and which led to his first record contract.
After a few minor hits, he reached number one in 1957 after the head of his record label persuaded him to imitate Elvis Presley on a song called Butterfly.
"It was an uptempo number which I knew Presley could do very well," Williams later said. "Against my better judgement I gave in."
He reverted to his natural, smoother style and scored hits over the subsequent decade including Can't Get Used To Losing You, Music To Watch Girls By and Can't Take My Eyes Off You.
After performing Moon River at the Oscars in 1962 it became his signature tune, although Williams never actually released it as a single.
"We knew it was going to win an Academy Award," he said. "It was very important in the movie, Breakfast at Tiffanys," in which it was performed by Audrey Hepburn.
Williams "sold half a million albums the next day" and said he was eventually known for the record "as much as Henry Mancini, who wrote it".
The same year he was given his own regular TV show on the NBC network, in which the sharp-suited singer would perform, introduce other stars of the day and take part in gentle comedy sketches.
It also led to the Christmas TV specials with which Williams became synonymous, featuring his entire family - from parents to brothers to nieces and nephews - as well as a range of festive sweaters.
Williams' TV show, which lasted nine years, will also be remembered for introducing the Osmond family to the world after they were spotted performing at Disneyland by Williams' father.
Williams won the Emmy Award for outstanding performance in a variety or musical program in 1963 and 1964.
"The 1960s were probably my peak years in terms of fame and fortune. My television show was a hit, and I was releasing three albums a year," he said.
"When the singer-songwriters came along, that's when everything changed," he added, referring to the likes of Bob Dylan and The Beatles.
Yet his chart career ran alongside that of the Fab Four, with his cover of Frankie Valli's Can't Take My Eyes Off You reaching number five in the UK in 1968.
"It's very unusual for somebody to have a hit with somebody else's material, which is what that is," he said in 2009.
"I think that chorus is a great chorus, the hook is terrific. It's a well-written song, it's easy to sing, it's easy for everybody to sing, 'I love you baby'."
Supporters of the Welsh national football team and Premier League football side Fulham have found this to be the case, regularly using a slightly amended version of the song to salute their players.
A Fulham FC spokesperson said the club was "deeply saddened" to learn that "one of the truly great crooners of his generation" had died.
Unconventional treatment
Williams separated from his dancer wife Claudine Longet, with whom he had three children, in 1970 after nine years of marriage.
On their break-up, his doctor recommended an unconventional treatment - a course of LSD.
"It was interesting," he told an interviewer. "Some of the trips were good, some bad. They guide you through it and suggest colours, etc.
"You go back and see yourself being born, see yourself pooping in your diapers, you go through a lot of stuff. It changed me.
"I came out realising that the only things important to me were family, friends and love. Maybe that's why I'm so cool."
Once asked if he would do anything different in his life, Williams replied that he would have worked less during summer months.
"I would have spent more time with my kids when they were growing up, during that, say, three months when out of school," he said.
When Longet was charged with fatally shooting her then-boyfriend Vladimir "Spider" Sabich, an Olympic skier, in 1976, Williams stood by her.
She said it was an accident and was found guilty of criminally negligent homicide, rather than manslaughter.
Political links
Williams was also involved in politics and campaigned for Senator Robert Kennedy, who became a close friend.
The singer was in Los Angeles when Kennedy was shot dead and sung the Battle Hymn of the Republic at his funeral. That, he later said, was "the hardest thing I've ever done".
Williams was not a natural Democrat. In 2009 he provoked controversy by accusing President Barack Obama of "following Marxist theory" and "wanting the country to fail".
The singer built his own theatre - the Moon River Theatre - in Branson, Missouri, in 1992, and typically performed there 12 times a week for nine months a year.
A new generation discovered Williams at the end of the 1990s. By then he was seen as the epitome of retro cool and, after being used in TV adverts, Music To Watch Girls By and Can't Take My Eyes Off You went back into the UK charts.
In 2011 the star broke the news on stage to fans at the Moon River Theatre that he had been diagnosed with cancer of the bladder.
The singer remained upbeat, declaring the illness was "no longer a death sentence" and that he would "kick" the disease.