BBC to review freelance payments over tax concerns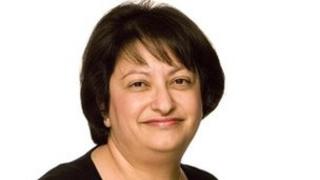 The BBC is to review the way hundreds of TV and radio freelance presenters are paid, after suggestions it is aiding tax avoidance schemes.
A commons committee heard claims that one long-term presenter was urged to receive payment off the books "or face a substantial pay cut".
The BBC insisted the arrangements are not in place to avoid paying tax.
However, chief financial officer Zarin Patel said the practice would be reviewed "with real seriousness".
Wages paid through Personal Service Companies (PCSs), which are legal, do not have income tax and national insurance contributions deducted at source, allowing tax dues to be reduced.
Giving evidence to the Commons Public Accounts Committee (PAC) Ms Patel said 148 BBC presenters are paid through PSCs, because it is the industry norm.
Public concern
However, Ms Patel said the BBC would look again at whether paying presenters in this way was acceptable for a broadcaster which is publicly funded through a licence fee.
"With the amount of public concern expressed today, I think I have to say yes, we will review it, and we will review it with real seriousness," Ms Patel told the committee.
"But can I emphasise that none of this is designed to avoid tax. That is not why we use an extensive number of freelance contracts at the BBC," she added.
Ms Patel was questioned on Monday for over an hour by the committee, chaired by Labour MP, Margaret Hodge, who described the practice as immoral.
"The BBC is funded through the taxpayer and licence fee. It makes it entirely unacceptable for anybody to be on a contract that is in any way avoiding tax," said Mrs Hodge.
Savings
Ms Hodge added that PSCs also saved the BBC money, as it didn't have to pay employer national insurance contributions, sickness pay, holiday pay or pension contributions for those employed in this way.
"You are not paying your bit of tax due from your organisation back to the Exchequer," she said.
"Is it right that an organisation like the BBC should use these mechanisms that may be lawful but are not morally right?"
Ms Patel said that such contracts gave the presenters the flexibility to work for other companies and gave the broadcaster the flexibility to respond with speed when programme needs changed.
"We would not be able to achieve the on-air reduction in spend if the freelance contracting model wasn't in place," she added.
In written evidence, the BBC had told the committee it was unaware of anyone eligible to be a staff member who had been denied such status.
But Margaret Hodge said she had heard from one long-term presenter who had been employed by the BBC for more than 20 years, who said he had to go "off books into a service company" or face a "substantial pay cut".
"He was told he would not be employed unless he did that and when he asked for that to be put in writing that was refused to him," she said.
Ms Patel said that particular issue would be investigated "because we take this seriously".
"I must emphasise that nothing we do is designed to avoid paying PAYE and NIC," she said.
The PAC is hearing evidence as part of an investigation into off payroll payments across the public sector.
More than 2,000 senior public officials were found to be on deals that allow them to reduce tax bills after one controversial case sparked a government crackdown.
A BBC spokesperson said the corporation is "satisfied" that its arrangements are in line with revenue guidelines.
"However in view of the Select Committee's interest in this area, we will undertake a review of the detail of these arrangements and report back to the committee."