Sir Derek Jacobi: 'The gut-rotting terror of going on stage never leaves you'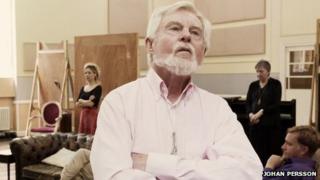 As he returns to the stage in Shaw's Heartbreak House, Sir Derek Jacobi talks about his long association with Chichester, his struggle with stage fright and why he'll never retire.
Sir Derek Jacobi's dressing room is a riot of roses.
It is the day after the opening of Heartbreak House at Chichester Festival Theatre, in which the veteran star of stage and screen plays Bernard Shaw's ancient mariner Captain Shotover.
"I was a callow youth of 24 when I was first here in 1963," recalls Jacobi, who joined Laurence Olivier's company for its second season at Chichester.
Then, Jacobi was in Shaw's Saint Joan, and now he's back in another Shaw play as Chichester celebrates its 50th anniversary season. Was that accident or design?
"Total accident," says Jacobi, "as most things in the theatre are. In my career nothing has ever been planned, I've just been very lucky that people have asked me to do things."
Heartbreak House, set on the brink of World War I, sees an assortment of characters invited to the home of the eccentric Captain Shotover by his daughter Hesione Hushabye (Emma Fielding).
The play, published immediately after the war, was Shaw's attack on the complacency of the elite classes who did nothing to avert Europe sliding into crisis until it was too late.
"He's a very soulful man, but a man in turmoil," says Jacobi of old sea dog Shotover. "It's been a fascinating journey.
"What is so good about this profession is that you can start out with a bit of talent and youth on your side, and then you get experienced - and hopefully successful - and then gradually you melt into the old men parts.
"I'm playing grandfathers these days, which still seems strange because inside I'm a juvenile."
Jacobi's first job after graduation in 1960 was with Birmingham Repertory Theatre.
He later tried - and failed - to get into the Royal Shakespeare Company at Stratford.
"I went for an audition, they thrust a copy of The Tempest in my hand and asked me to read Ariel. They didn't want me. I was deeply depressed," he recalls.
But Jacobi's fortunes changed in 1963 during a Shakespeare season at Birmingham Rep as it celebrated its 50th anniversary.
"One Wednesday matinee I am playing Henry VIII and Sir Laurence is in the audience on a recce for young actors for the second season at Chichester.
"I was sharing a dressing room with 'Cardinal Wolsey' and Olivier came in and said lovely things and offered me a job."
It was from that Chichester company that Olivier formed the very first National Theatre company the same year.
Jacobi still vividly recalls the day that the actors were summoned to Olivier's office to be told whether they were in or out.
"It was a horrible day," he says, pointing out of his dressing room window. "The actors went over one by one to the offices where the Minerva theatre is now. We were trying to read their body language as they came out."
Jacobi was chosen. On 22 October that year he played Laertes alongside Peter O'Toole's Hamlet at the Old Vic at the launch of the National Theatre.
Jacobi will never forget the date - it was also his 25th birthday.
What was Olivier like to work with? "He had many hats: he was our father figure, he was our boss, he was our director, he was our fellow actor. He was a great mentor for me - I was with him for eight years."
Jacobi's first leading role was at Chichester in 1965 in Peter Shaffer's one-act Black Comedy, alongside Albert Finney and Maggie Smith.
After opening night, Olivier came to his dressing room with some advice about taking curtain calls.
"You came on like a scared rabbit," he told the young Jacobi. "You gave a little nod to the audience and then buggered off. That's not how you take curtain calls."
Jacobi admits: "I'm still not very good at curtain calls on my own. I don't enjoy them at all. When you're playing Hamlet or Lear you can't do it on your own - the evening belongs to everybody."
Talking to Jacobi, it becomes clear that he is an actor who likes to stick at acting.
In 1995, he became artistic director at Chichester, but admits: "I realised pretty early on it wasn't my bag at all."
He has only directed once for the stage - Kenneth Branagh as Hamlet. "That I really loved but again it wasn't where my heart was - I wanted to be up there on stage doing it."
When I mention Peter O'Toole's retirement - announced a few days earlier - Jacobi sounds surprised.
"Actors don't often retire, they simply fade away or, if they're lucky, carry on with a new range of parts."
The profession can be stressful, he says. For two years he avoided theatre roles due to stage fright.
"You do get wound up - you get stressed every time you go on - and that never gets any better, I think that gets worse the older or more successful you are.
"That gut-rotting terror before you walk onto the stage never leaves you."
But Jacobi cannot ever imagine deciding to "chuck in the sponge" , as O'Toole put it.
"I can understand it. But I would never do it. Acting is so much part of my life."
Heartbreak House is at Chichester Festival Theatre, West Sussex, until 25 August