Downton Abbey fights Mad Men for best drama Emmy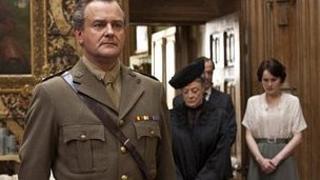 ITV1's period drama Downton Abbey is up for the main prize at the 2012 Primetime Emmys.
The show is nominated for best drama, alongside Mad Men, Homeland, Game of Thrones, Breaking Bad and Boardwalk Empire.
Downton stars Hugh Bonneville and Michelle Dockery are also up for best actor and best actress in a drama.
The show won best mini-series in 2011 but will compete in the drama category at this year's ceremony.
It faces stiff competition from Mad Men, which is up for its fifth best drama award.
If it takes the prize, it will have won the title more times than any other show.
The 1960s advertising drama is currently tied on four wins with Hill Street Blues, LA Law and The West Wing.
The series has 17 nominations overall, as does American Horror Story, a nightmarish thriller about a haunted house.
Downton Abbey is just behind, with 16 nominations.
Six of those are in the acting categories, with Dame Maggie Smith, Joanne Froggatt, Brendan Coyle and Jim Carter all recognised for their roles.
"I'm gobsmacked," said Hugh Bonneville, who plays the Earl Of Grantham, partiarch to the Crawley family, on the hit show.
There are also multiple nominations for mini-series Hemingway & Gellhorn, about the love affair between Ernest Hemingway and journalist Martha Gellhorn.
The same applies to Hatfields & McCoys, which tells the story of a famous feud between two families in 18th Century America.
Modern Family, which has been named best comedy series for the past two years, is the sitcom leader with 14 nominations.
Its citations include four for its male cast members, all in the best supporting actor category.
Actress Kathryn Joosten, who died last month, is nominated posthumously for her role in the final series of Desperate Housewives.
Many of the big nominees - Mad Men's Jon Hamm, 30 Rock's Tina Fey and Dexter's Michael C Hall - are returning favourites.
But newcomers include quirky sitcom New Girl, which sees nominations for its stars Zooey Deschanel and Max Greenfield.
Shows making their debut in the shortlist include political satire Veep, CIA thriller Homeland and New York-based comedy Girls.
There is a strong showing for British actors across the nominations.
As well as the cast of Downton, there is a nod for Damian Lewis for his portrayal of Marine Sergeant Nicholas Brody in Homeland.
Also recognised is Archie Panjabi, who plays the manipulative investigator Kalinda Sharma in legal series The Good Wife.
Jared Harris receives a nomination for his role in Mad Men, while So You Think You Can Dance presenter Cat Deeley gets a mention as best host of a reality series.
In the mini-series category, Benedict Cumberbatch, Idris Elba and Clive Owen are on the shortlist for Shortlist, Luther and Hemingway & Gellhorn respectively.
They go up against Game Change star Woody Harrelson and Kevin Costner and Bill Paxton, both of whom are nominated for Hatfields & McCoys.
Emma Thompson is nominated for best actress in a mini-series, for her role in The Song of Lunch.
Her competitors are Julianne Moore, who played Sarah Palin in Game Change; Connie Britton for American Horror Story; Nicole Kidman for Hemingway & Gellhorn; and Ashley Judd for Missing.
The BBC's Sherlock is up for 13 awards, including best supporting actor for Martin Freeman and outstanding writing for a mini-series.
Show creator Steven Moffat is nominated for the latter for his work on the episode A Scandal in Belgravia.
Ben Stephenson, BBC controller of drama commissioning, said: "It's a testament to the quality and breadth of BBC drama that six different titles - Sherlock, Luther, Page Eight, Great Expectations, Song of Lunch and The Hour - have received twenty six prestigious Emmy nominations between them this year"
The ceremony will be held in Los Angeles on 23 September and will be hosted by Jimmy Kimmel.
The talk show host also announced the nominees at Thursday's early morning press conference, stepping in at the last moment after Nick Offerman of Parks and Recreation was delayed.
Taking to the stage in his pyjamas alongside actress Kerry Washington, Kimmel jokingly asked: "Is this a sex dream?"