Author Denise Mina predicts fiction revolution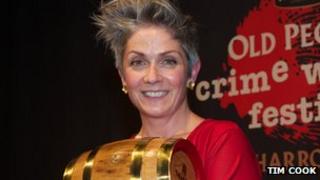 The rise of ebooks will "fundamentally change" the types of stories that are written and who they are written by, an award-winning author has predicted.
Denise Mina's book The End of the Wasp Season won the Theakstons Old Peculier Crime Novel of the Year Award in Harrogate, Yorkshire, on Thursday.
Ebooks will "revolutionise everything" from book lengths to the dominance of middle-class authors, she said.
"People are very frightened in publishing at the moment," she said.
"Nobody knows what sells. More so now because the market's changing so fundamentally because of Kindle and electronic publishing. It's a fundamental shift in the way stories are put out into the world."
The Glaswegian writer was speaking after picking up the prestigious crime award for her ninth novel, which sees a pregnant detective piece together the connections between a grisly murder in Glasgow and a suicide in Kent.
With more people reading on electronic devices, accepted publishing norms - such as an average book length of 350 pages - were being broken down, she said.
"Why is that a story? Why isn't a story 18 pages or 150 pages, which isn't a novella and it isn't a novel? But it can be now on electronic media."
The upheaval in publishing is bigger than that experienced by the music industry over the last decade because people still listen to three-minute pop songs, Mina explained
But the form of stories would alter, with elements like cliff-hangers at the end of chapters becoming less important, she added.
"It's going to revolutionise everything. With literary production it's going to fundamentally change the sorts of stories that we hear, which is amazing," she said.
The electronic revolution will also open up publishing to a wider range of writers, she predicted.
"There are a lot of bottlenecks to getting published. Publishers are only one of them. Having the time is another one. Feeling entitled is another one. I think it's going to change who writes, what they write, the sorts of stories we hear.
"I think the class divide is going to change. I think a lot more working class people are going to get published. It is really class ridden, literature."
Another of Mina's books, The Field of Blood, was turned into a BBC One drama last year starring David Morrissey, Peter Capaldi and Jayd Johnson.
Morrissey was among the judges for this year's award. The nominees included SJ Bolton, Chris Brookmyre, John Connolly, Steve Mosby and SJ Watson.
Mina's book was one of four on the shortlist to have female investigators in a field traditionally dominated by male detectives, while four of the six nominees were classed as thrillers.
'Heartfelt gratitude'
The ceremony took place on the day that crime figures showed that the murder rate in England and Wales was at a 30-year low - something Mina said was good for crime writers.
"People are interested in crime fiction when they're quite distanced from crime," she said. "People in Darfur are not reading murder mysteries.
"I think people are afraid of crime if they're quite safe. People rehearse being afraid. It is about distance and experiencing those primeval emotional responses in a safe environment."
Inspector Morse author Colin Dexter was awarded a lifetime achievement honour, for which he said felt a "profound and heartfelt gratitude".