Dog Day Afternoon writer Frank Pierson dies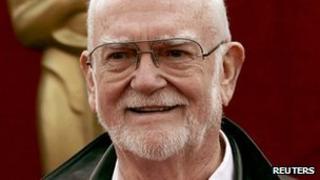 Frank Pierson, who won an Oscar for his screenplay of the 1975 Al Pacino film Dog Day Afternoon, has died aged 87.
His family said he died of natural causes at a Los Angeles hospital after a short illness.
Pierson was also Oscar-nominated for his screenplays for the 1967 Paul Newman prison drama Cool Hand Luke and 1965 western Cat Ballou.
More recently, he worked as a writer and producer on TV shows Mad Men and The Good Wife.
After three seasons on Mad Men, he had been expected to return for the show's sixth run next year.
Best known for Dog Day Afternoon - based on a real-life bank heist in Brooklyn - Pierson penned the famous moment when Pacino shouted "Attica!" outside the bank in reference to the Attica prison riot in New York State in 1971.
He also wrote and directed Barbra Streisand and Kris Kristofferson's film musical, A Star Is Born, as well as a number of other TV movies.
As well as writing, Pierson served two terms as president of the Writers Guild of America West, and was president of the Academy of Motion Picture Arts and Sciences, which awards the Oscars, from 2001 to 2005.
"Young rock 'n' rollers always look to the old bluesmen as models of how to keep their art strong and rebellious into older years. For screenwriters, Frank has been our old blues master for a long time," said Phil Robinson, Academy governor of the writers branch.
"He's always shown us - better than anyone else - how to do it with class, grace, humour, strength, brilliance, generosity and a joyful tenacity."
Actor Tom Hiddleston (Thor, War Horse) also paid tribute on Twitter , saying: "Frank Pierson, the writer of Dog Day Afternoon & Cool Hand Luke, and one of the first film-makers to give me a break, has died. RIP."
The British star had an early role in Pierson's 2001 TV drama Conspiracy, also starring Kenneth Branagh and Stanley Tucci.
Renowned film critic Roger Ebert commented that Pierson was "a writer, director, movie industry statesman, and good man."
Pierson is survived by his wife, two children and five grandchildren.