Mark Rylance returns to Shakespeare's Globe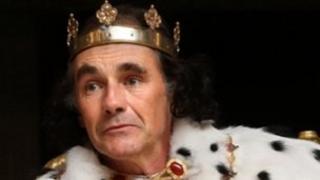 Actor Mark Rylance has returned to Shakespeare's Globe in an all-male production of Richard III, seven years after his last performance there.
Rylance, in the title role, was hailed in the Telegraph as "the crowning glory of the summer's theatre".
But the Mail's critic was "not convinced" by Rylance's "experiment".
The 52-year-old actor withdrew from Friday's Olympic opening ceremony earlier this month following the sudden death of his step-daughter, Natasha.
However, he is continuing with his theatrical commitments, which include reprising his celebrated role as Olivia in Twelfth Night, also at the Globe, in September.
'Insidious power'
"Whether or not the terrible sudden death of his step-daughter Natasha van Kampen earlier this month has steeped his performance in a greater than usual aura of vulnerability, there's a quiet sadness about Rylance that lends melancholy even to the villain's clowning aspect," wrote the Telegraph's Dominic Cavendish.
"Rylance belongs here much as a bird does in the sky or a fish the sea. He's in his element."
The Times' Libby Purves agreed: "In the first of two return performances... his twisted Richard is one to remember," she wrote, in her four-star review.
Michael Billington, writing in the Guardian , hailed the "insidious power" of Rylance's "slow-burn approach".
He "has come with a fascinating, deeply unconventional Richard that will grow even richer with time", he wrote.
However, the Mail's Quentin Letts, took issue with a Richard III played "almost for laughs, as an apparent simpleton".
"Mr Rylance's experiment will interest Shakespeare buffs who have seen the play done other ways but newcomers will leave it without an appreciation of just how mercurial and bewitching this maniac of a king can be.
"Give me a Richard who provokes revulsion, not titters."
Both Richard III and Twelfth Night are expected to transfer to the West End Apollo theatre from 2 November.