Vienna opera told to save 10 million euros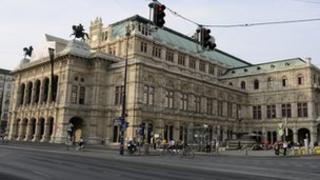 Vienna State Opera is under pressure to make savings of 10 million euros (£7.8m) after a warning from the Austrian government.
The prestigious venue currently receives 56.4 million euros (£44m) from the government each year.
Like other European countries, Austria is looking for ways to cut spending to balance its budget and reduce its debt.
Musical director Franz Welser-Moest said it would be tricky to streamline the "very efficiently run" opera house.
"How we are meant to achieve this was not explained," he said in a television interview to be broadcast on Sunday.
Mr Welser-Moest said Austria's finance minister, Maria Fekter, had told him - on holiday - "to save 10 million euros if possible, which it isn't."
Respected
Vienna State Opera house - known as the Wiener Staatsoper - is one of the busiest in the world, producing 50 to 60 operas a year in approximately 200 performances.
"Compared internationally we have the highest box office takings," said Mr Welser-Moest.
"The Bavarian State Opera is 10 million behind us, the Berlin State Opera 20 million behind us. We have a capacity utilisation of almost 99 percent.
"There are no possibilities to increase our revenues," he added.
Opened in 1869, the opera house has the capacity to seat over 2,000 people. It also has standing room, for which cheap tickets are sold immediately before each performance.
In the 12 months to June 2012, it posted a profit of 31.3 million euros.
An audit carried out last year identified 6.7 million euros in potential savings.
Welser-Moest said culture was big business for Austria's tourism industry but he complained that it is not valued as highly as it once was.
"The Salzburg Festival, the Vienna Philharmonic, the Vienna State Opera, these are institutions in which we lead the world. What else do we know how to do?
"Becoming the best is hard. But staying on top is considerably more difficult, requiring incredible amounts of innovation and investment," he said.
Vienna opera house hosts the internationally renowned Vienna Opera Ball, which takes place annually on the last Thursday of the Fasching carnival.
Reports in Austrian media suggested last year that the opera house may have to increase ticket prices for all events due to pressures to cut costs and work more efficiently.