Writing The Bourne Legacy 'was like a math problem'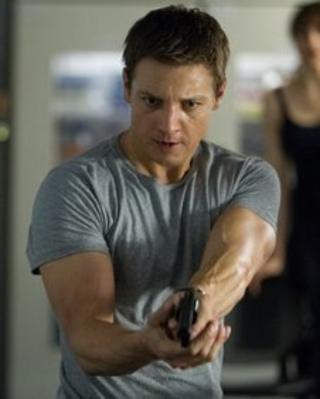 Many fans were shocked when Universal Pictures decided to continue the Bourne franchise without its biggest star. Director Tony Gilroy describes how he hopes to prove the doubters wrong.
February 2010: The winter Olympics are in full swing in Vancouver, Owl City's Fireflies is at number one... and the Bourne franchise is in crisis.
Director Paul Greengrass has stepped down, saying he has nothing left to contribute. Days later, Matt Damon follows him.
"Jason Bourne's got his memory back three times now," the star tells journalists, while promoting war film Green Zone in the US.
"I don't think anybody wants to see me say 'I don't remember' again."
The producers consider doing a Bond - simply replacing Damon with another actor - but it feels inappropriate for a series so rooted in reality.
Then, a prequel is mooted (Bourne This Way, if you like) but the story treatments are unconvincing.
With no star, no director and no script, producer Frank Marshall calls up screenwriter Tony Gilroy, architect of the first three Bourne films. Could he come in for two weeks to thrash out some ideas?
"They'd run out of road and everybody walked away," says Gilroy. "No-one knew what to do."
The writer started spitballing ideas with his brother Dan. He says they approached the task as a "math problem".
"Eventually, we came up with this master idea - that what you'd seen before was a piece of something much larger.
"We'll tear back the curtain and see there's a much bigger conspiracy behind all of this."
And so Bourne was born again. Inspired by the story he'd created, Gilroy signed up to direct.
Super-spy
For those who haven't seen the trailer, the action takes place in the same timeframe as the previous instalment, The Bourne Ultimatum.
As Jason Bourne blows the cover on the CIA's super-spy programme, Treadstone, we learn of several similar operations - all of which must be terminated because of his actions.
That spells danger for Aaron Cross, an agent of Operation Outcome, (described as "Treadstone, without the inconsistency"), whose handlers want to wipe him out.
Played with ferocious intensity by The Hurt Locker's Jeremy Renner, Cross is a tougher, colder character than Damon's scrupulous spook.
He is also imbued with superhuman agility and strength. One sequence sees him scramble up the side of a three-storey building in a single 10-second shot.
"That's actually me!" exclaims Renner. "I did 99% of the stunts in the movie.
"How many attempts did it take? Twenty-five. How many scrapes and bruises? Quite a few."
Renner's character is a veteran of the Afghanistan war and, unlike Jason Bourne, a willing recruit to the shady underworld of covert operations. For the first 30 minutes of the film, he barely speaks.
Was Gilroy ever worried the audience wouldn't sympathise with his character?
"We are trusting that you're intrigued at the beginning," he says.
"We tell his story late and hopefully that resonates back through the rest of what you've seen - but it's a gutsy thing to do."
Renner says he never had concerns about the audience reaction.
"I've played a lot of unsavoury characters - much more unsavoury than this guy - and the audience can still find some sort of empathy towards them.
"So I wasn't really scared that people wouldn't want to follow him. And it's brilliantly written. It was really just my job not to screw it up."
Moral questions
If Cross's principles are never entirely clear (is he fighting for survival, or fighting the system?) nor are those that guide the film's antagonists.
Edward Norton plays Col Eric Byer, architect of the Treadstone and Outcome projects and director of a black-line intelligence agency.
"He feels that he has to do things that are highly unpleasant in order to serve the larger mission," explains the star.
"He's not at all the hand-rubbing, gleeful villain. He's a person with intense convictions about how you balance necessary evils with higher purpose.
"All of the main characters... have willingly participated in this netherworld of science and government and the military, where people are making morally murky decisions," he says.
Gilroy claims the film's shadowy secret service storylines are based on real military projects.
"There's a very real appetite to have soldiers with increased energy, higher pain thresholds and less need for sleep," he explains.
The director says his research was more about "confirmation" than fact-finding. To his surprise, some of his more outlandish ideas "were already in play".
For Norton, that grounding gives The Bourne Legacy its bite.
"The success of the Bourne films is specifically that they are spy films for this era. They speak to this growing sense, globally, that there's an uncomfortable intimacy between corporations and government.
"I don't want to put a value judgment on them versus a Bond film or a Mission Impossible film, but I think those films are distinctly fantasy; whereas the Bourne films have the moral questions of the day wrapped up."
The Bourne Legacy is released in the UK on Monday, 13 August.