Batman composer Hans Zimmer records tribute song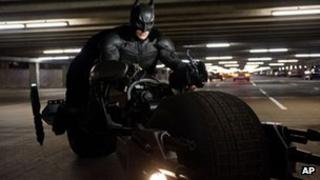 The Dark Knight Rises composer Hans Zimmer has recorded a benefit song for victims of the cinema shooting in Colorado.
Writing on his Facebook page, Zimmer said : "Aurora is dedicated to those who lost their lives and were affected by the tragedy in Aurora, Colorado.
"I recorded this song in London... as a heartfelt tribute," he added.
James Holmes is accused of killing 12 and wounding 58 during a midnight showing of the new Batman film.
The eight-and-a-half minute song is being sold for donations from 10 cents to $2,500 (£1,593).
A mournful, choral lament, it has been praised by fans online.
"Hans Zimmer has delivered a poignant, moving piece that reflects on loss yet stirs the emotions," wrote an iTunes user, called Rbangk.
He went on to praise the powerful crescendo that reflects "defiance against those who would do us harm".
"Hans Zimmer has shown himself to be a great man as well as a great composer," added Chris Lyne.
Zimmer also wrote the soundtrack for The Dark Knight and Batman Begins with James Newton Howard.
His prolific CV includes scores for Driving Miss Daisy, Thelma and Louise, True Romance, Gladiator and the last three Pirates of the Caribbean films.
He is also composing the music for the upcoming Superman film - Man of Steel, directed by 300's Zack Snyder.
Meanwhile, The Dark Knight Rises remains at the top of the North American box office with takings of $64.1m (£40.8m) in its second weekend of release.
But sales in the US and Canada dropped 60% from its debut weekend.
While the film is still one of the year's highest-grossing movies so far, sales are not as good as pre-release forecasts predicted after the opening was overshadowed by the Aurora shooting.
"It's been a double dose of things," said Paul Dergarabedian, president of Hollywood.com.
"The Olympics has been dominating media coverage lately and probably kept a lot of people home Friday night, and then there's the Aurora shooting," he added.
Overall US and Canadian tickets sales were down 25% on the same time last year, according to Hollywood.com.
However, the latest Batman film has made nearly $250m (£159.4m) overseas since its release on 20 July.
Children's film Ice Age 4: Continental Drift was second at the North American box office, with takings of $13.3m (£8.4m).
The Watch, starring Vince Vaughn, Ben Stiller and Jonah Hill, was third, with $13m (£8.2m).
Dance film Step Up Revolution took fourth place, taking $11.8m (£7.5m).
Seth MacFarlane Comedy Ted was in fifth position with $7.4m (£4.7m).