Wallace and Gromit take over Prom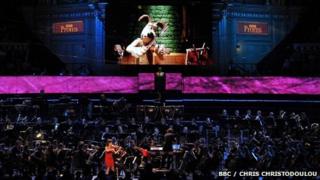 Wallace and Gromit brought some animated anarchy to the BBC Proms on Sunday with a family-themed concert featuring new sequences created by Bristol-based film studio Aardman.
Titled Wallace and Gromit's Musical Marvels, the afternoon concert saw conductor Nicholas Collon take instruction from the eccentric inventor and his resourceful dog from a workshop purportedly located beneath the Royal Albert Hall stage.
Messages and music scores were conveyed via a pneumatic tube system in a thermos flask capsule.
Nick Park, creator of Wallace and Gromit, was on hand to watch the comic mayhem that ensued.
The concert was aired live on BBC Radio 3 and was recorded for future broadcast on BBC TV.
The programme, performed by the Aurora chamber orchestra, included a selection of popular classics by such composers as Debussy, Mozart and Stravinsky.
More contemporary sounds came from the respective oeuvres of John Adams, Aaron Copland and Dmitry Shostakovich.
Repeated renditions of Julian Nott's brass-based Wallace and Gromit theme tune had the audience merrily clapping in time.
Yet the centrepiece of the concert was a new work, supposedly written by Wallace himself, titled My Concerto in Ee, Lad.
As might have been anticipated by those familiar with such Oscar-winning short films as The Wrong Trousers and A Close Shave, things did not go entirely to plan.
That proved literally the case at the Albert Hall, where proceedings were halted at one point by an unexplained, five-minute hitch.
"That's what you get when you put Wallace in charge," joked Collon as he retook his place on a rostrum resembling a railway signalman's box.
The podium, dubbed the 'Maestr-o-matic', came equipped with a baton holder, a mug of tea and a plate of cheese and crackers.
The animated sequences saw Wallace modify or destroy various musical instruments, to the silent dismay of his loyal hound.
At one point Gromit was forced to fill in for his master, hastily composing a 'Double Concerto for Violin and Dog'.
The sequence saw an animated Gromit 'play' alongside the British classical violinist Tasmin Little.
After an interval, the event concluded with a screening of the 2008 short A Matter of Loaf and Death with a live orchestral soundtrack.
An Aardman spokesman said the company was "extremely pleased and positive about the reaction" to the concert, the 20th Prom in this year's season.
It was "terrific", he continued, "to see so many young children there being introduced to classical music by Wallace and Gromit".