Madonna says boos at Paris gig were from 'a few thugs'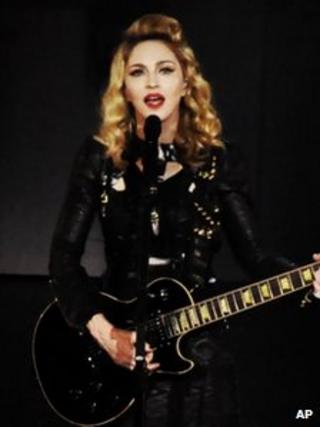 Madonna has said the angry reaction from a crowd at her recent 45-minute show in Paris was from "thugs who were not my fans".
"Playing the Olympia was a magical moment for me," she said in a statement on her website.
"Unfortunately at the end of the show, after I left the stage, a few thugs who were not my fans rushed the stage... pretending to be angry fans," she said.
Some fans on Twitter agreed with her but others said they had booed her.
One said: "I have been a fan for 20 years and I booed Madonna at the Olympia! 45 minutes for 275 euros. Shame on you."
Another tweeted: "Madonna has blamed 'rogues' attending her concert at the Olympia without understanding that her fans feel cheated."
'Very frustrated'
Media website The Examiner said "many fans did feel short-changed due to lack of communication on how the show would be shorter".
But it suggested that "the actual riots and the screaming were started by supporters of Marine Le Pen, the leader of the far right National Front in Paris. Apparently, they are still upset that Madonna compared Le Pen to a Nazi in her tour."
The 2,000 tickets sold out in minutes, with fans paying between £80-£200 and some reportedly changing hands for up to £1,000.
Speaking to the BBC's John Hand at the show on Thursday, Paris resident Allain Zambrana, 26, from Nicaragua, said he wanted to ask for his money back.
"I felt very frustrated because I camped out on the streets and then the show just ends like that."
Several people cried "refund" as they realised Madonna had left the stage for good.
Dutch fan Ellis Van Zoen, 22, agreed the show was "very short", but added: "I'm torn - I thought it was a fantastic show and it was special. I don't want to see fans yelling at her but I can understand why."
Other fans vented their frustration on a Facebook page owned by the star's publicist, Liz Rosenburg.
"Some people slept in the streets for 48 hours. So what happened with the concert?" asked one fan. "She was incredible but we were all shocked by the departure and the duration of the concert."
Others were more supportive. "It was an amazing experience to be part of this wonderful show," commented Christopher Houthaeve.
"I purchased the category 1 ticket and have absolutely no regrets."
'Wonderful experience'
Madonna said the "thugs" threw plastic bottles at the stage and that "the press reports have focused on this and not the joyous aspect of the evening".
"But nothing can take away or ruin this very special evening for me and my fans. When I looked out in the audience, everyone I saw had a smile on their face. I look forward to having this wonderful experience again."
At her concert in Vienna on Sunday, the singer told the crowd: "Those people were not my fans, they were not there to support me.
"But that's ok because wherever there is darkness, I'm going to bring you some light... we're not going to let them spoil our fun, are we?"