Newsnight breaches BBC's offence rules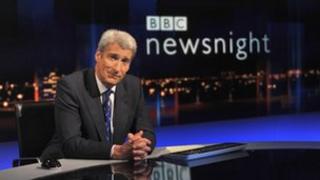 Newsnight host Jeremy Paxman caused unintentional offence when referring to a literal belief in the Old Testament as "stupid", the BBC Trust has ruled.
During a interview with atheist author Richard Dawkins, the presenter also used the term "religious hogwash" when introducing the story of Genesis.
A complainant also accused Mr Paxman of bias against religious belief.
The BBC said Newsnight welcomed the Trust's finding that the piece "achieved due impartiality".
The Trust's editorial standards committee ruled that Mr Paxman was not deliberately offensive and said it did not believe the Newsnight item was biased.
But it recognised some viewers "were unlikely to have expected Jeremy Paxman's typically robust and confrontational interviewing style to extend to the use of the terms 'religious hogwash' and 'stupid people'".
The committee said it regretted the offence caused to some viewers by the use of the terms in question on the programme, broadcast on BBC Two on 13 September 2011
The committee partly upheld the complaint regarding offence.
A BBC spokesperson said: "Newsnight notes the Trust's finding that viewers may have found some of the comments offensive but also welcomes the finding that the piece achieved due impartiality."
In a separate case, the BBC's economics editor was found not to have been biased when she said London's finance services accounted for "a tiny fraction" of the UK economy.
But the BBC Trust did rule that due accuracy had not been achieved in Stephanie Flanders' report on 9 December.