Special access to Westminster Abbey for BBC Two series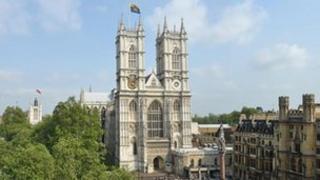 BBC Two has been given access to Westminster Abbey for a behind-the-scenes look at one of Britain's most historical landmarks.
Westminster Abbey dates back more than a thousand years and is among London's top visitor attractions.
The three-part series will provide an insight into the institution's inner workings over 12 months.
The factual programme is still in production and is due to be broadcast on BBC Two towards the end of 2012.
A BBC spokeswoman commented: "Westminster Abbey is a great institution with some fabulous stories."
Known formally as the collegiate Church of St Peter at Westminster, the Abbey continues its tradition of daily worship today.
Since becoming the coronation church in 1066, it has had close links with the royal family and is the final resting place of seventeen monarchs.
The tombs and memorials make up one of the most significant collections of monumental sculpture in the UK.
It has also been the venue for 16 royal weddings since 1100, including the most recent marriage of the Duke and Duchess of Cambridge in April 2011.
The BBC Two series is part of a number of new factual programmes to be shown by the corporation.
Westminster Abbey has been the subject of television programmes in the past. A three-part documentary called The Abbey was broadcast by the BBC in 1995.
In 2010, Channel Four explored the story of Westminster Abbey's mosaic floor, the Cosmati pavement being uncovered for the first time in 100 years.