Dancer Nigel Charnock dies of cancer, aged 52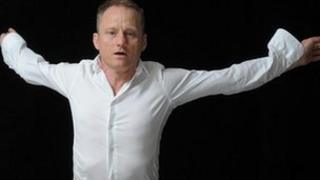 British dancer and choreographer Nigel Charnock - best known as a founder member of the dance company DV8 - has died at the age of 52.
The internationally-renowned performer was diagnosed with cancer this June.
His work can currently be seen in the National Theatre of Wales' production I'm Water I'm Weightless, featuring a cast of deaf and disabled performers.
Malaysian dancer Mavin Khoo called him "a genius". "Thank you for your vision and artistry," he wrote on his website.
"Thank you for being such a fine example of humility... Thank you for leading the way for generations of male artists to celebrate their identities," Khoo continued.
Charnock's work was grounded in improvisation and frequently autobiographical, with a streak of black comedy.
He worked on the fringes of the mainstream, often creating challenging pieces that dealt with his homosexuality.
The Times praised his "liberating energy", while the Telegraph noted he blurred "the line between entertainment and personal therapy".
Polymath
An acknowledged maverick of dance, Charnock trained at Cardiff's Royal Welsh College of Music and Drama before going on to the London School of Contemporary Dance.
Born in Manchester, he spent some of his youth living in Abergele, north Wales.
He co-founded the DV8 physical theatre with Lloyd Newson in 1986, and left six years later when the company was gaining national acclaim.
"I left because the shows were getting too big," he claimed.
"DV8 was really getting successful with massive sets, but I kept feeling smaller and smaller and part of a huge organisation."
Charnock founded his own company in 1995.
His solo performances included Human Being, Hell Bent, Original Sin, Resurrection and the improvised show Frank, which was commissioned by the Venice Biennale.
Fever, commissioned for the Pro Musica Nova Festival in 1998, went on tour with more than 50 performances throughout Europe.
Successful collaborations included his partnership with Wendy Houston and his work with the Candoco Dance Company. Between 2002 and 2005, he was also artistic director of Helsinki Dance Company.
A 1998 profile in the Guardian called him "a polymath performer with a nice line in self-directed irony".
His most recent work included Stupid Men, an improvisation and performance project for four men, which he directed; and One Dixon Road, a solo show based on Nigel's childhood, family and his first inspirations to dance.
He was midway through creating an ambitious project entitled 10 Men.
A statement on his website said Charnock died on Wednesday, 1 August at St Christopher's Hospice in South London.