Battle for Monte Cassino told in new film by John Irvin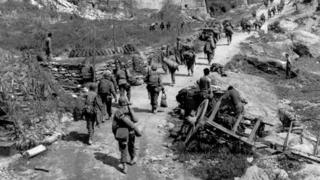 A film about the battle for Monte Cassino - one of the most bitterly-fought land campaigns of World War II - is being made to coincide with the battle's 70th anniversary.
Its British director John Irvin told the BBC he didn't want to make a film that was "merely a bloodbath".
"It's a moving story of tenderness, love and hope with a sense of salvation within it," he said.
Irvin's previous films include Hamburger Hill and The Dogs of War.
Over several months in 1944, Monte Cassino was the focal point of a series of German defensive positions stretching across the Italian peninsula that prevented the Allied advance to Rome.
During the harshest Italian winter on record, the mountainous terrain around the world-famous abbey provided the ideal protection for the German Army.
The abbey was destroyed by aerial bombing in February 1944, but not before the German troops had rescued its treasures from destruction.
With nearly 200,000 soldiers participating from over 30 different countries, there were heavy losses on both sides. Some 55,000 Allied and 20,000 German soldiers were injured or killed.
Irvin said his fascination with Monte Cassino dated back to his school days, when he had been taught by a history master whose brother had died there.
"It's not a battle that the Allies can be very proud of," Irvin said. "The casualties were jaw-dropping, a third of which were inflicted by friendly fire."
He added: "The aspect of the battle that has haunted me was the decision to carpet bomb the abbey, one of the great architectural jewels of western culture, which was reduced to rubble in six hours."
The adviser on the film is Dr Peter Caddick-Adams, a professional military historian and author of the recently-published Monte Cassino: Ten Armies in Hell.
The film tells the true story of two survivors of the battle, a wounded American soldier and the Italian nurse who cared for him.
With casting underway, Irvin hopes to shoot Monte Cassino in Poland next year, and said the destruction of the abbey would involve a "significant amount of CGI".
The producers are Steffen Wild of Fourth Culture Films and Davina Belling of Film and General Productions.