Batman sequel holds off Recall remake challenge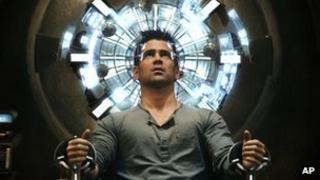 The Dark Knight Rises is top at the North American box office for a third week, holding off a challenge from Colin Farrell's remake of Total Recall.
Industry estimates suggest the Batman sequel took $36.4 million (£23.4m) between Friday and Sunday.
Farrell's version of the 1990 Arnold Schwarzenegger hit made its debut in second place, bringing in an estimated $26m (£16.7m) over the same period.
In third came Diary of a Wimpy Kid: Dog Days, which opened with $14.7m (£9.4m).
The conclusion to Christopher Nolan's Batman trilogy easily saw off its rivals, taking its overall box office tally in the US and Canada to $354.6m (£227.8m).
In contrast, the Total Recall "reboot" failed to connect with moviegoers, making the same amount as the original film did when it opened two decades ago - a lesser sum once ticket price inflation is taken into account.
Ice Age: Continental Drift, the fourth instalment in the popular animated series, claimed fourth place this week with three-day takings of $8.4m (£5.4m).
It was followed at five by The Watch, a comedy starring Ben Stiller and Vince Vaughn, which brought in $6.5m (£4.1m) over the weekend.
Overall North American ticket sales were down roughly 28% compared with the same weekend last year, when Rise of the Planet of the Apes made more than $50 million in its opening weekend.