Once musical breaks even in record time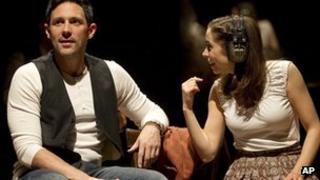 Broadway musical Once has recouped its initial $5.5 million (£3.5m) costs in less than six months, its producers have announced.
The stage version of the Oscar-winning 2006 film turned a profit in 21 weeks after 169 performances.
Producers said the pace was "faster than any Tony award-winning best musical in more than a decade".
Only about three in every 10 Broadway shows tend to make a profit, with most needing a year or more to break even.
Another Broadway hit, The Book of Mormon, recouped its $11.4m (£7.3m) investment last year in nine months.
It made its money back in part by charging up to $477 (£304) for tickets.
The top priced ticket for Once is $275 (£175), with an average ticket price of around $124 (£79).
Although producers have never revealed how much Once costs to run, it is understood to have a relatively low weekly outlay according to the New York Times.
Last week the musical grossed $1.06m (£6,750,000) at the box office.
The show, starring Steve Kazee and Cristin Milioti, tells of the unlikely romance between a Czech flower seller and an Irish street musician in Dublin.
Like the film it features songs by Marketa Irglova and Glen Hansard. They include Falling Slowly, which won the Oscar for best original song in 2008.
The show won eight Tony awards in June, including best musical, best direction and best performance by an actor in a lead role.
The show, which opened at the Bernard B Jacobs Theatre on 18 March, is currently booking until August 2013.