Blur to release Hyde Park show on DVD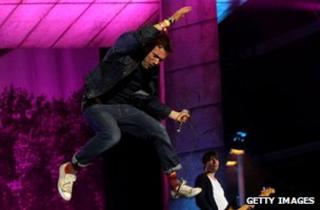 Indie group Blur are to release a recording of their show at Hyde Park, marking the closing of the Olympics.
Titled Parklive - a reference to their 1994 breakthrough album Parklife - the 3 CD set will also contain songs from the band's warm-up shows.
The concert saw singer Damon Albarn embrace the Olympic spirit, holding up a Union Jack and striking the "Mobot" pose of gold medal-winner Mo Farah.
Blur had hinted that the show would be their final live appearance together.
Underneath a stage set that resembled the Westway overpass - one of the main trunk roads into central London - the quartet played for more than two hours.
The setlist was more varied than at their 2009 reunion gigs, featuring fan favourites Trimm Trabb, Colin Zeal and Caramel alongside hits like Tender and Girls and Boys.
With the help of Abbey Road's Live Here Now service, the band were able to mix and master the soundboard recording quickly, making it available online within 24 hours.
Sound issues
The CDs will be available to buy from the band's website next week, along with a five-disc box set including a DVD of the concert.
For some fans who attended, it may be their first opportunity to fully experience the show - as there was widespread criticism of the sound levels at Hyde Park.
"Blur amazing but what's with the sound?" asked Charlotte Price, who was tweeting during the show. "Too quiet!"
Westminster council has been monitoring noise levels of summer gigs in the park following complaints from local residents.
Twitter user Mark Beaumont commented: "I feel like I missed it. Inaudible. Heartbroken."
Selling recordings from the show may also help the band recoup some of their costs, after Albarn revealed they had been paid just £300 for their participation.
"When you divide that between four and add publishing, management and tax, it's down to about a quid," Damon Albarn told Absolute Radio. "But that's not why you agree to do it … I love this city."
The singer also told the BBC it had been a privilege to celebrate the Olympic Games, which he described as "a tonic for the whole country".
"I'm a big football fan," he said, "and it's going to be weird going back to that culture of highly-paid stroppy athletes, as opposed to this brilliant breath of fresh air that we've all had.
"Mo Farah as a person and as an institution represents the greatest aspirations of this country. He's someone who came as a child here from a really rough situation in Somalia and has emerged as this sort of beautiful emblem for us all.
"What an inspiration."