Streaming music revenues up 40% globally in 2012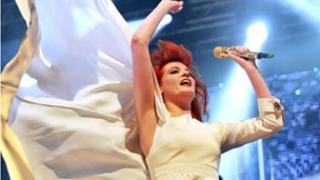 On-demand services like Spotify and We7 will generate £696m for the global music industry in 2012 - a rise of 40%, new research has suggested.
It means streaming music is the fastest-growing sector of the industry, overtaking downloads, which are due to see an increase of 8.5% this year.
CDs and vinyl still dominate the industry, accounting for 61% of all music sold worldwide.
But sales of physical products dropped by 12% globally, and 30% in the UK.
The research was carried out by industry watcher Strategy Analytics, which noted a marked contraction in the UK music market during the first six months of 2012.
Total spending on music will fall by £190m, or 16%, in the UK this year it predicted, compared to 2.6% globally.
"The extent of the decline took us a bit by surprise," said Ed Barton, the company's director of digital media.
The lack of new material from pop and rock's biggest stars could be responsible for the drop-off, he added.
"The quality of the release slate was simply not desirable enough to drive the levels of spending we've seen in previous years," he told the BBC.
"Maybe something will come along - even one of the compilations of songs from the Olympics ceremonies - which will give us something to shout about going forward."
Strategy Analytics forecast that spending on digital music - including downloads, streaming music and mobile sales - would overtake that of physical products like CDs in 2015, both in the UK and worldwide.
Music streaming services are expected to be huge drivers of the growth, said Barton, as the boom in retail downloads is starting to "flatten out".
Global picture
The firm's research backs up statistics from record industry bodies around the world.
The BPI, which represents record labels in the UK, says that in the first three months of 2012, subscription-based music services were worth just under £9m, a 93% increase year-on-year.
"Free" streaming services, which use advertising to generate revenues, had raised £3.4 million, an increase of 20% compared to the same period in 2011.
In Sweden, where Spotify was developed, the recording industry body GLF said streaming music generated 252.7 million krona (£24m) in the first six months of the year, representing a 79% increase from 2011.
However, some musicians have complained about royalty rates on streaming services - which pay artists a fee every time their song is played.
Cellist Zoe Keating recently released her earnings in a public Google document, and claimed she was paid just $281.87 (£179.70) by Spotify after her songs were played 72,800 times by users.
Meanwhile pop artist Shannon Hurley tweeted last month that she had earned $14.87 (£9.48) from 4,030 plays.
Those statistics suggest that each stream of a song earns around 0.2 pence.
Spotify says it paid $180m in royalties to musicians last year and is on track to double that figure to $360m in 2012.
Martin Mills, who founded Adele's record label XL and is now chairman of the Beggars Group, has also defended such services, saying some of his artists now earn "more than half" of their revenue from streaming services.
"If we didn't have digital we wouldn't have a business," he told the Daily Telegraph last week.
Digital downloads - music bought from Amazon, iTunes, 7Digital and their competitors - is expected to be worth £194m to the UK industry in 2012.
The UK accounts for 44% of Western Europe's download market, thanks in part to the high penetration of broadband services.