Sir Elton 'devastated' by death of his bass guitarist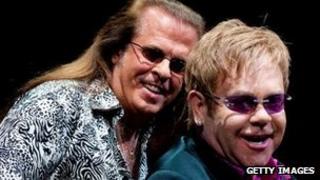 Sir Elton John says he is "devastated and shocked" after his bass player was found dead, aged 56.
Robert Wayne Birch, who had recorded and toured with Sir Elton since the early 1990s, was found in his apartment with a gunshot wound to the head.
The case is "being investigated as a possible suicide," said Los Angeles Assistant Coroner Chief, Ed Winter.
"My heart goes out to Bob's wife Michele, his son Jonathan and his family," said Sir Elton in a statement.
Guitarist Birch, 56, joined the musician's touring band in 1992 and worked on four of his albums, as well as the 1997 re-working of Candle In The Wind.
A saxophonist as well as a bassist, he had spent most of his time over the past 20 years touring with Sir Elton, but he also collaborated with a string of other famous names including Eric Clapton, BB King, Stevie Wonder and Tina Turner.
Sir Elton is currently taking a break from touring, and returns to performing in Ontario on 7 September.
He issued a statement on his website, in which he said, "Bob was family".
"He had been a member of my band for 20 years; we played over 1,400 concerts together. He was one of the greatest musicians I have ever worked with, and in all our years on the road he never played or sang a bad note.
"I cannot find the words to describe this tragic death, and how much I loved him. May he rest in peace."
TMZ reported that police did not find a suicide note and there were no apparent signs of drug use.
Birch is survived by his wife, Michele, and a son, Jonathan.