Why are female record producers so rare?
By Mark Savage
BBC News entertainment reporter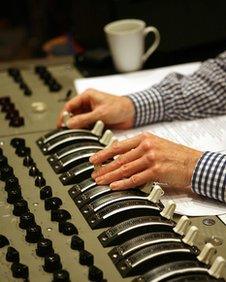 Over the last few years, it seems women have dominated the music industry, from Adele to Lady Gaga, via Rihanna, who apparently can't leave the house without recording a hit single.
But the story is not being replicated on the other side of the sound desk.
While George Martin or Pharrell Williams are household names, only three women have ever been nominated for best producer at the Brits or the Grammys. None of them went home with the prize.
Recording artist Regina Spektor, promoting her album Far in 2009, admitted to the BBC she had "never even seen the names" of female producers on her record company shortlist.
"It didn't enter my mind to to look for one," she said.
"I should put out a call and say, 'Where are you?'"
She must not have found any - because when her follow-up album What We Saw From The Cheap Seats came out this year, she was the sole woman with a production credit.
"It is a sad case," says Steve Levine, chairman of the UK's Music Producer's Guild. "I've only ever worked with one female studio engineer."
"Oddly enough, there are a lot of quite powerful, high position females in record companies - my wife included - but less in the technical arena."
They do exist, however. Trina Shoemaker is one of them.
"The light bulb went off as a child," she says. "I would put albums on and I would just study their jackets.
"I didn't actually care about the musicians, I cared about how it happened. Why did it come out of the speakers like that? Why does the needle go into that groove and make music come out of those cones? And who does that?"
Inspired by The Beatles, the Rolling Stones, and her headphones, she left home at 18, skipping college to go to LA. She worked as a record company receptionist and a maid in a recording studio for seven years before finally getting a job operating tape machines in New Orleans.
"My family didn't know what I was doing," she says. "They thought I was repairing stereos!"
Eventually, Shoemaker became an apprentice to Daniel Lanois, who helped shape the sound of U2 and Brian Eno, and, in 1998, was the first woman to win a Grammy for sound engineering.
These days, Shoemaker is in constant demand as a producer. So why isn't her story more common?
"It's a renegade profession, it's an outlaw profession," says Susan Rogers - one-time studio engineer for Prince, and now an associate professor at the Berklee College Of Music in Boston.
Women who want to enter the field face "a boys' club, or a guild mentality", she says.
"You have to have a lot of swagger. A lot of swagger. If you don't, you won't be successful."
Even the successful ones face challenges, says Shoemaker.
"A producer has to turn into the person that fits in with the band," she says.
"If they're a bunch of guys and they're young and they're funny and they tell rude jokes, you have to be a woman who isn't shocked by that and can, as a matter of fact, crush them all with three words."
Sexism may be one factor, but Prof Rogers believes the problem is more basic.
"The bottom line is, women aren't interested," she says.
"Right now, I currently teach engineering and production; and I also teach psychoacoustics and music cognition. In the psychology topics, the students are half women and half men. But in production and engineering, maybe one out of every 10 students is a young woman."
In the UK the situation is the same. The Music Producers' Guild says less than 4% of its members are women. And the Liverpool Institute of Performing Arts says only 6% of the students enrolled on its sound technology course are female. That figure hasn't changed for three years.
Yet the problem seems to be restricted to rock and pop. In the theatre, in Hollywood, in radio there are dozens of female sound engineers. Roughly one-quarter of the BBC's sound mixers are women.
"There are no social barriers to a woman becoming a record producer," says Prof Rogers.
"The more stringent and insurmountable constraint is the biological one. A man can, technically speaking, reproduce on his coffee break. It doesn't take all that long, and biologically it doesn't take much of a toll. For a woman, the opposite is true.
"The typical lifestyle of a record producer is very intensive, very competitive, all-consuming. In order to be able to maintain that level of focus and attention and dedication to your craft, it has to come at the expense of reproduction."
"The women who do get into it will do really well... until they reach that point in their late 20s where they say, 'Now its time to have a family'. I tell my female students it's going to come for them. It came for me, and I opted not to have children, to not get married."
Shoemaker, a mother herself, can attest to that.
"Having a baby was a big deal, a game changer," she says. "I was 39 when I got pregnant, so I was already well established, but it did change everything. It took me out of the running for a lot of jobs."
"It's not about being the equivalent of men. It's just that I don't want to raise some weirdo son that ends up being a psycho because I was too busy making records to be a mama."
Prof Rogers says some of her colleagues have tried to artificially boost the number of girls studying production, but its a practice she fights.
"The last thing I want to see - because I have seen it - is to get young women into the programme who are less dedicated, less motivated and less capable of being good producers. All it does is make things worse for us. They do poorly, they're apathetic, they're not interested and it furthers the stereotype that women can't do this."
Still, Mr Levine hopes more women do see the light. His theory is that they could bring new dimensions to recorded music.
"If I have an observation, it's that a lot of the female engineers have a greater allegiance to the sort of passion a singer-songwriter has, and that comes out in their work.
"They're much more sensitive to the delicacies of sound balancing. I think that's quite an important role."
And Shoemaker, who can reel off the names of several female contemporaries, says she sees things improving.
"Women are entering the field in drives now. There's maybe a 20-year curve before they're fully recognised. But look at doctors - they're pretty much equal now.
"I don't know about pay scales, but if a surgeon walks in and it's a woman on her 800th cardiac surgery, I want her, not the young dude who just walked out of medical school.
"So I think about the time I retire, we'll see a very level playing field."
Related Internet Links
The BBC is not responsible for the content of external sites.