Robert Downey Jr sustains Iron Man 3 set injury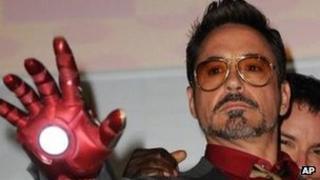 Iron Man star Robert Downey Jr has suffered a minor injury while filming the latest instalment in the superhero franchise in North Carolina.
The Oscar-nominated actor, who is reprising his role as billionaire playboy Tony Stark, injured his ankle while performing a stunt.
Marvel Studios issued a statement saying there would be "a short delay in the production while he recuperates".
Iron Man 3, co-starring Guy Pearce and Sir Ben Kingsley, is released in 2013.
The third film reunites Downey Jr with regular co-stars Gwyneth Paltrow, Jon Favreau and Don Cheadle.
Downey Jr first debuted in the blockbuster role in 2008, to huge public and critical acclaim - with the film making $585m (£372m) at the worldwide box office.
He returned to the role in an equally successful sequel in 2010, with the global box office peaking at $623m (£396m).
Shane Black, who directed Downey Jr in Kiss Kiss Bang Bang, takes over as director from Favreau for the latest adventure which sees the action move to China.
It was also announced earlier this week that Downey Jr would return as Stark in the sequel The Avengers 2, which is scheduled for release in May 2015.