Expendables 2 raids US box office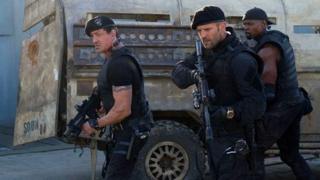 Action heroes led by Sylvester Stallone and Arnold Schwarzenegger have stormed to the top of the North American box office chart with The Expendables 2.
The full-throttle film sequel also stars Bruce Willis, Jason Statham, Jean-Claude Van Damme and Jet Li in the tale of a gang of military mercenaries.
The film took $28.8m (£18.3m) over the weekend, according to studio estimates.
It knocked The Bourne Legacy into second place with $17m (£11m), while animated comedy ParaNorman is in third.
That film features a boy named Norman who can talk to ghosts and works to save his town from a zombie apocalypse.
Will Ferrell's political spoof The Campaign is in fourth place, followed by a new entry for Motown story Sparkle, a remake of the 1976 musical.
Sparkle was the final movie role for Whitney Houston, who starred alongside American Idol winner Jordin Sparks before her death in February.
Entertainment Weekly critic Owen Gliberman wrote that the "gravelly conviction" of Houston's performance proved that "this could have been the first step not merely in a comeback but in a major re-invention".
USA Today's Claudia Puig wrote: "Envisioned as a starring vehicle for Sparks, Sparkle is also a fitting curtain call for Houston."
In sixth place in the box office chart, The Dark Knight Rises made $11.1m (£7m), taking it past $400m (£255m) and above The Hunger Games as the second most successful film of the year so far.
The Avengers is still comfortably the year's biggest hit, having taken $618m (£393m) in the US and Canada.