The Office to end US run in 2013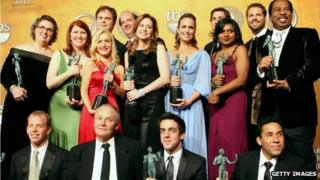 The US version of award-winning TV comedy The Office is to end its eight-year run next year.
Producers said they took the "creative decision" due to the departures of several key cast members.
They promised season nine would feature "a lot of familiar faces coming back", although it is not known if original star Steve Carrell will return.
The Emmy Award-winning show was adapted from the hit British series created by Ricky Gervais and Stephen Merchant.
"We are planning a very big exciting last season," executive producer Greg Daniels said.
"This year feels like the last chance to really go out together and make an artistic ending for the show that pays off a lot of the stuff that has mattered most to fans with the core characters."
Daniels, who developed the show for American TV, said the decision was made because of the success enjoyed by many of the cast members away from the show.
Last year lead actor Steve Carrell, who played bumbling office manager Michael Scott, quit "to devote more time to just being a dad right now".
He has since made films such as Crazy Stupid Love and Hope Springs, and is due to start filming Anchorman 2 next year.
Screen couple John Krasinski and Jenna Fischer, who play Jim Halpert and Pam, have also both had success developing film careers, while Rainn Wilson's character Dwight Schrute is getting a spin-off series.
"It didn't seem we could count on getting that many people back for a season 10," said Daniels.
He added that it was a "difficult decision" and said they had debated whether to "reboot" the show as it was such a strong format.
However, they decided "the show would be changed to such a degree it wouldn't be the same show".
The final season, which begins on 20 September on NBC in the US, will tie up many of the characters' storylines and reveal the identities of those shooting the fly on the wall documentary at the Dunder Mifflin Paper Company.
"The ending should be pretty cool," said Daniels.
He also denied falling ratings were behind the show being brought to a close, after the audience dropped from a high of around eight million in 2008 to around four million earlier this year.
"Certainly we are not leaving for any reason other than the ones I have described. The show has been healthy and valued by NBC," he said.
Daniels said he would welcome former star Steve Carrell back for some episodes but did not wish to pressure him.