Mixed verdict for US Inbetweeners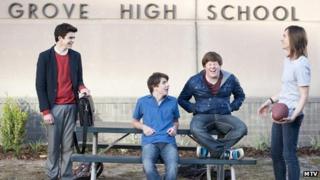 Critics have been split by MTV's US remake of hit British comedy The Inbetweeners.
Reviews of the first episode ranged from "not great" to "top of its class".
The four main schoolboy characters of Will, Simon, Neil and Jay return with much of the script borrowed from the British original.
In a one-star review, The Telegraph said: "I'm not sure I can reassure anyone that The Inbetweeners isn't as bad as feared."
It continued: "The early shows barely raised a smile, let alone reached the comedic heights achieved by the Channel 4 version."
"None of the guys in the American version are quite as interesting as their British counterparts," said The Boston Globe, which felt the show "falls in the middle of the quality scale".
The paper said it lacked "some of the texture and distinction" of the British comedy, but did have "a refreshing sincerity".
Digital Spy agreed, declaring: "Much of the focus is going to be on how the new boys measure up. And to be honest, they're a mixed bag."
However, several critics suggested the show could achieve success if it chose to break away from the British original.
"Anyone remember the poorly-received first season of the US Office?" Digital Spy asked. "Only when that series threw off the shackles of its predecessor and became its own show did it flourish. Perhaps the same will prove true here."
US remakes of UK shows have not had the best track record, with MTV's version of Skins getting axed after just one season.
US censorship rules mean swearing in the remake has been bleeped, and The Telegraph was among those to criticise the themes of friendship and bonding that made it feel "like an episode of the Wonder Years".
However, several American reviews were highly favourable, including Hollywood.com.
"I heartily recommend The Inbetweeners as the most hilariously accurate depiction of everything that sucks about high school," it said.
"Plain and simple, this is MTV's best comedy since the days of Daria, and really firms the network as the best in the business for reaching the high school crowd."
Industry website Variety also gave the show the thumbs up, writing: "The Inbetweeners has, for once, clearly gained something in translation.
"The title notwithstanding, far from the middle of the pack, The Inbetweeners earns a place near the top of its class."
The Inbetweeners Movie, starring the British cast of Joe Thomas, James Buckley, Simon Bird and Blake Harrison, was a box office smash last summer making £45m, despite a budget of just £3.5m.
A sequel is now in the works, according to co-creators Damon Beesley and Iain Morris, who said they wanted to make sure they had "a good enough story to tell".