Brave beats Bourne Legacy at UK box office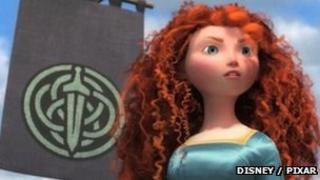 Animated film fantasy Brave has claimed top spot in the UK and Ireland box office chart, holding off competition from The Bourne Legacy.
Disney-Pixar adventure Brave earned £5.2m from 553 screens in its first weekend on full release.
The Bourne Legacy entered in second place with £4.6m.
Comedy Ted slipped into third place, while action sequel The Expendables 2 took just under £2m to enter in a disappointing fourth place.
By contrast, The Expendables 2 stormed the US box office chart to take the number one spot this week, knocking the Bourne Legacy into second place.
The full-throttle film sequel, which stars Sylvester Stallone and Arnold Schwarzenegger took $28.8m (£18.3m) over the weekend in the US and Canada.
Combined takings of the top 15 films in the UK and Ireland between Friday and Sunday was £17.8m - up almost £10m on the previous weekend.
The Dark Knight Rises was in sixth place with takings of £1.5m from 440 screens. After five weeks in cinemas, Christopher Nolan's final instalment in the Batman trilogy has now grossed just under £50m.
In Brave, the Scottish princess Merida, voiced by Kelly Macdonald, is the first female lead character in a Pixar film.
The voice cast also includes Billy Connolly, Julie Walters, Emma Thompson and Robbie Coltrane.