Sue Perkins to create BBC Two sitcom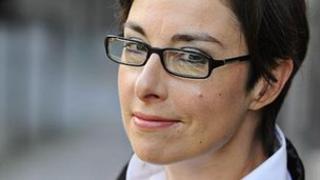 Comic and TV presenter Sue Perkins is to write a new sitcom for BBC Two, it has been announced.
The Great British Bake-Off host will also take the lead role in Heading Out, about a vet who is afraid to tell her parents she is a lesbian.
Dawn French will star opposite Perkins, along with The Thick of It's Jo Scanlan and Nicola Walker from Spooks.
The six-part series will begin production in September and is due to be broadcast next year.
According to the BBC, Perkins will play Sara, a skilled veterinarian whose friends insist she tell her parents about her sexual orientation.
To help her achieve this, her friends buy her a series of sessions with an eccentric lifestyle coach.
Executive producer Nicola Shindler said Perkins's script was a "fantastically original, smart and witty".
Perkins herself said the project had been "a joy to work on" and that she hoped that joy "proves to be infectious".
The 42-year-old has written for TV previously and is well known for her appearances on The News Quiz, Just a Minute and other radio shows.
Her television credits include Absolutely Fabulous, French and Saunders and Ronni Ancona and Co.