Busted star's Loserville musical set for West End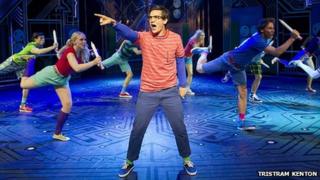 A stage musical written by James Bourne, a former member of pop group Busted, is to open in the West End.
Loserville, about high school nerds in 1970s America, is partly based on songs by Son of Dork, the band Bourne formed after Busted split in 2005.
Former EastEnders actor Aaron Sidwell will play lead geek Michael Dork.
The London run at the Garrick Theatre, which begins in October, follows a well-received premiere at the West Yorkshire Playhouse in Leeds in June.
The cast also includes ex-chart star "Lil" Chris Hardman, but Gareth Gates, who appeared as bad guy Eddie in Leeds, will be replaced by Stewart Clarke for the West End transfer.
The production was named alongside Tim Minchin's Matilda and the National Theatre's London Road as evidence of a resurgence in new British musicals by The Stage newspaper after the Leeds opening.
"For freshness, boldness and introducing an original and authentic rock musical voice to the theatre, there's been nothing quite like this since The Who's Tommy was first brought to the stage," its critic Mark Shenton wrote.
'Fresh and vivid'
Other reviews were also glowing, with The Independent hailing its "extraordinary young cast" and The Daily Express describing it as "fresh, vivid and open-hearted".
The Daily Mail, however, declared that it had "all the appeal of a rocked-up toothpaste ad".
The show, heavily influenced by US teen movies like Grease, Back To The Future and American Pie, was written by Bourne with Elliot Davis.
It comes a decade after Bourne co-wrote and played on Busted's hits including What I Go To School For, Year 3000 (which also referenced Back To The Future) and Crashed The Wedding.
Loserville's creative team also includes musical director Martin Lowe, who worked on Mamma Mia! and War Horse and recently won a Tony Award on Broadway for Once.