Global TV deals for Paralympics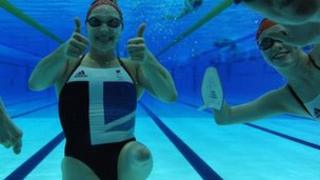 The London 2012 Paralympic Games will be shown in more countries than any previous Paralympics after organisers agreed a series of TV deals.
More than 100 countries will now screen the Games, with deals covering Latin America, Pakistan, the USA and Iran.
Unlike Olympic rights, which are sold by the International Olympic Committee, the Paralympic rights are sold by London 2012 organisers Locog directly.
The Games, which start on Wednesday, will be aired by Channel 4 in the UK.
"It's fantastic to know that billions of people around the world will have the opportunity to watch," Locog chairman Lord Coe said.
"The deals we have signed are a testament to how great Paralympic sport is. People watching the action on TV will get to see some incredible sport by incredible athletes."
Locog said it expected to confirm further deals "in due course".
Meanwhile, Lord Coe revealed more details about Wednesday's opening ceremony.
Titled Enlightenment, he said it was "about human understanding, about limitations and the importance of knowledge".
"It focuses on that extraordinary period in European history and the great intellectual revolution that took place between 1550 and 1720," he added.
The ceremony will feature more than 3,000 volunteers including 50 disabled performers.