Oscars to have more original song nominees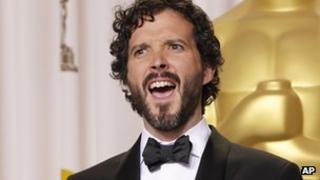 The Oscars have changed the rules for the original song category to ensure more songs are nominated after just two tracks were up for this year's award.
The Academy of Motion Picture Arts and Sciences said there would be five nominees in the category in 2013.
A complex voting system has meant only a small number of tracks have made it into the final category in some years.
This year, Bret McKenzie's Man or Muppet from The Muppets beat Real in Rio, from Rio, to win the accolade.
Since 2010, the voting system has meant songs on the longlist have had to receive at least 8.25 marks out of 10 in order to be nominated.
Billboard reports that the new, "more straightforward" system will see the five tracks from the longlist with the most votes go forward to be nominated.
Academy members will receive the submitted works and a DVD of song clips. After watching the clips, members will vote in order of preference for up to five choices.
However, if there are fewer than 25 songs on the longlist, the final category will be limited to three nominees and if there are only nine songs on the longlist, it is possible that no award will be given at all for that year.
There were 39 songs on the 2012 longlist, including tracks by The National, Elton John, Lady Gaga and Robbie Williams.
This is not the first time the academy has amended the rules in the best song category.
For the 2009 Oscars, the number of nominations in the original song category was limited to two per film to make it more competitive.
The points system that has been in place since 2010 was brought in as an attempt to improve the quality of entries.
The 85th annual Academy Awards will be held in Hollywood on 24 February 2013.