Radio presenter Daire Brehan dies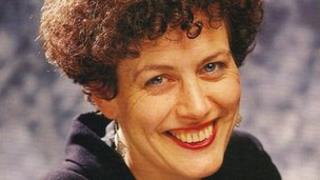 Radio presenter Daire Brehan, who hosted such shows as BBC Radio 4's The Afternoon Shift and You And Yours in the 1990s, has died at the age of 55.
Dublin-born Brehan trained as a lawyer before becoming an actress and launching a theatre company in Ireland.
She began her radio career with RTE in Dublin before moving to London in 1989 and taking to the British airwaves with the early BBC Radio 5 and then Radio 4.
She was first diagnosed with cancer in 1999 and died in London on Thursday.
Brehan was one of four children and a poetry recital prize at the age of eight gave the first sign of a talent for communication that she later said "was to form the foundation of all the careers I would have".
After studying legal science at Trinity College Dublin, where her tutors included two future Irish presidents, Mary Robinson and Mary McAleese, she became an actress and dancer.
On a theatre tour to Poland, she met her future husband Maciek Bernatt-Reszczynski, with whom she founded Theatre Unlimited in Kilkenny in 1985.
Brehan acted in many of their productions and won several dramatic roles on Irish TV.
After spotting an advert asking "Do you want to be the new Terry Wogan?" in 1987, she joined RTE as the host of radio programmes covering subjects from classical music to law and politics.
Following her move to the UK, she began working as a reporter on BBC Radio 5, now 5 live, when it launched in 1990.
Stints in the hot seat for Radio 4's You And Yours and The Afternoon Shift followed, and listeners around the globe knew her as host of the BBC World Service's Pick of the World.
But the radio work dried up after The Afternoon Shift was axed in 1998 and she returned to her original ambition of becoming a lawyer, being called to the Bar in 2002.
After bouts of ill health, including the removal of a brain tumour in 2003, she gained qualifications in complementary medicine and became a massage and pilates therapist.