Channel 4's Islam film sparks row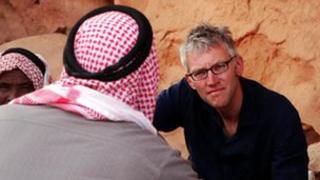 Around 550 complaints have been made to Channel 4 and media watchdog Ofcom over a documentary that questioned parts of the story of the origins of Islam.
In Islam: The Untold Story, historian Tom Holland said there was little evidence for how the faith was born.
He suggested Mecca may not have been the real birthplace of the Prophet Muhammad and Islam.
The Islamic Education & Research Academy said it was "historically inaccurate" and "clearly biased".
Holland said he tried "to examine, within a historical framework, the rise of a new civilisation and empire" in the Arab empire from the 7th Century.
He claimed there was little hard evidence for the origins of Islam and asked why it took several decades after the death of Muhammad for his name to appear on surviving documents or artefacts.
He also questioned where and when the Koran was written and said there was an historical "black hole" surrounding Islam's beginnings.
'Legitimate subject'
Muslims believe Muhammad was born in Mecca and received revelations from Allah, which were recorded in the Koran.
The origins of Islam were a "legitimate subject of historical enquiry", Holland wrote on the Channel 4 website.
It was important to stress, he said, that it was "a historical endeavour and is not a critique of one of the major monotheistic religions".
"It was commissioned as part of Channel 4's remit to support and stimulate well-informed debate on a wide range of issues, by providing access to information and views from around the world and by challenging established views," he added.
'Turned a blind eye'
In a rebuttal, the Islamic Education & Research Academy said: "Tom Holland's assertion that there is no historical evidence for the 7th Century origins of Islam is historically inaccurate.
"This notion cannot be sustained in light of the contemporary non-Islamic as well as material evidence."
It added: "Holland appears to have turned a blind eye to the rich Islamic historical tradition. There are no 'black holes' and there is no missing information.
"There is plenty of material evidence available to substantiate the accuracy of the Islamic narrative on the early history of Islam."
Channel 4, in turn, said that was an "entirely inaccurate representation" of Holland's message and said he expressed surprise at the lack of Muslim testimony from the 7th Century but did examine contemporaneous Jewish and Christian evidence.
Holland said in the show that he is a non-Muslim and was brought up a Christian, and in his subsequent response wrote that he had been "up-front" about his ideological background and presumptions.
"If the film was about the origins of Islam, then it was also about the tensions between two differing world-views," he wrote.
A Channel 4 spokesperson said the broadcaster had received around 400 complaints, while Ofcom has received around 150 complaints.
An Ofcom spokesman said: "We will assess them and if we believe there has been a possible breach of the broadcasting code, we would hold an investigation, but no decision to that effect has been taken."