Judge Dredd returns, this time with helmet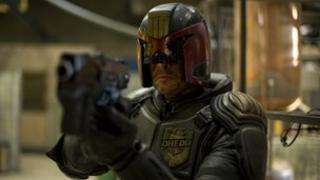 A new movie based on British comic strip character Judge Dredd seeks to introduce the 2000 AD lawman to a new generation, while correcting the flaws of an earlier big-screen incarnation.
At first glance Sylvester Stallone might have seemed an ideal actor to portray Judge Dredd, the implacable super cop from Mega City One who made his first appearance on the pages of the 2000 AD comic in 1977.
Until, that is, the Rocky and Rambo star took off the helmet with which this iconic figure has always been associated.
At a stroke, 1995 film Judge Dredd lost the core "fan-boy" audience that could and should have been its most ardent supporters.
It seemed unlikely that another Dredd film would ever see the light of day. But now one has arrived - this time with helmet firmly in place.
"There was always the worry that the first movie had killed it," says John Wagner, Scottish co-creator of the futuristic law enforcer.
"But the people behind this one have a lot of integrity, and I think they've brought off Dredd magnificently."
Directed by Salford-born Pete Travis, written by Londoner Alex Garland and produced by British outfit DNA Films, the new 3D release retains the character's UK connections.
For Dredd himself, however, the team looked further afield, casting New Zealand native Karl Urban in the title role.
Best known for playing Eomer in the Lord of the Rings trilogy and Doctor "Bones" McCoy in 2009's Star Trek film, the 40-year-old is no stranger to well-established characters.
Yet Urban insists the weight of expectation did not hang heavily upon him when he began shooting Dredd in South Africa at the end of 2010.
"When I'm making a film that is my prime focus," he tells the BBC. "I don't really think about other people's expectations.
"I put enough pressure on myself to get it right without taking into consideration what other people are thinking or feeling."
So what was it like to film the movie with a visored helmet obscuring his countenance? "It was a challenge," the actor admits.
"The eyes are one of the most valuable tools that an actor has. So taking on a role where I was denied the use of them really forced me to focus on the other tools I had available to me.
"The voice becomes extremely important, and the physicality of the role too. How you do what you do takes on a heightened significance.
"It was like doing a play. Theatre actors use their whole bodies to express themselves, whereas film actors can get lazy and just use their heads."
Admittedly, not many plays contain the amount of sustained, visceral violence that the 18-rated Dredd crams into its 96-minute duration.
Granted the authority to summarily execute wrongdoers in the dystopian megalopolis he calls home, Dredd dispenses instant justice with scant regard for sensitive dispositions.
His ruthlessness is matched by his chief adversary, a drug lord given to skinning those who cross her and throwing them off the 200-storey high rise that is her personal fiefdom.
In this regard, Dredd bucks the current trend of films, like this year's The Hunger Games, that have downplayed gory scenes in order to achieve a more palatable certificate.
Where does Karl Urban - no stranger to mayhem and action thanks to his roles in The Bourne Supremacy and Red - stand on the often vexed issue of screen violence?
"The issue of violence is a compound one," says the actor, a father of two sons. "It's not just that there's violence in films.
"The violence prevalent in video games, where kids are killing people on screen - I would argue that has more of a psychological impact.
"As far as I'm concerned, it's up to parents to govern and restrict the level of graphic material their children are exposed to.
"There are governmental warnings on movies and video games, and as legal guardians it's the parents' responsibility to exercise judgement."
Dredd arrives in cinemas in the wake of a number of comic book-inspired blockbusters built around superhero characters.
According to Wagner, though, it is a different beast from The Dark Knight Rises, The Amazing Spider-Man and other examples of their costumed ilk.
"Dredd is different in that he's not a superhero," the author explains. "He hasn't got any powers; he's just a man on the street doing his job.
"He's a hard man but he's just a man. He can't suddenly take off and fly around the globe or leap through the city on spider's webs.
"I always find it hard to get my head round superhero movies," Wagner continues. "There's a huge credibility gap, whereas Dredd is believable.
"Dredd is a straight action hero - or villain, depending on how you look at him."
Dredd 3D is out in the UK and Ireland on Friday.