Chariots of Fire producer Jake Eberts dies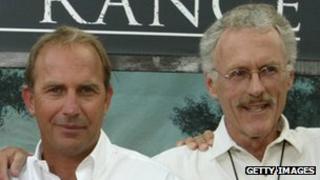 Producer Jake Eberts, who played a key role in such Oscar-winning British films as Chariots of Fire and Gandhi, has died at the age of 71.
The financier founded Goldcrest Films in the 1970s and served as executive producer on several prestigious titles.
Award-winning movies he steered into production include Driving Miss Daisy, Dances with Wolves and Chicken Run.
According to Variety, Eberts died on Thursday in Montreal of complications from a rare cancer of the eye.
Goldcrest's support for such films as Local Hero, The Killing Fields and others helped revive the British film industry after a long period in the doldrums.
But the company stumbled after backing such expensive box-office disappointments as Absolute Beginners, Revolution and The Mission.
Eberts left the company in 1987 and went on to chronicle its misfortunes in his memoir My Indecision Is Final: The Spectacular Rise and Fall of Goldcrest Films.
The 1990s saw him produce or executive produce such popular titles as A River Runs Through It and James and the Giant Peach.
Eberts collaborated again with Kevin Costner, director and star of Dances with Wolves, on his 2003 western Open Range.
'A real gentleman'
As chairman of National Geographic Feature Films, he helped make 2005 nature documentary March of the Penguins an international box office hit.
Canadian director Denys Arcand, a close friend of Eberts, told the Montreal Gazette he had been "an extraordinary film producer and an extraordinary man".
US film critic Roger Ebert, the producer's near-namesake, tweeted that the two had become friends "because at festivals we were always getting each other's mail".
David Sproxton, executive chairman of Aardman Animations, said Eberts had been "instrumental in introducing us to the key players in Hollywood".
"He was a real gentleman," he told the BBC News website. "He had quite a cosmopolitan view of life, which gave him a broader view of how films might play and what appealed."