Plan B and Hawley named Mercury favourites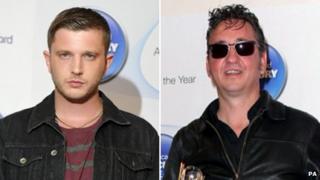 Rapper Plan B and Sheffield troubadour Richard Hawley lead the nominees for this year's Barclaycard Mercury Prize.
The competition, which names the album of the year, also includes Alt-J, The Maccabees, Jessie Ware and BBC Sound Of 2012 winner Michael Kiwanuka.
Completing the shortlist are Django Django, Lianne La Havas, Roller Trio, Field Music, Sam Lee and Ben Howard.
Bookmakers William Hill make Plan B and Hawley joint favourites to win the £20,000 prize, announced on 1 November.
However Alt-J's experimental art-rock album An Awesome Wave and London singer Jessie Ware's debut Devotion have been tipped for success by rival bookmakers Paddy Power.
Last year, PJ Harvey became the first act to win the Mercury Prize twice, for her album Let England Shake, after previously winning in 2001.
Eight of this year's albums are debut releases, with Richard Hawley the only artist to have been nominated for the prize before.
Plan B, aka writer, director and actor Ben Drew, is the most recognisable name on the list, having scored several Top 10 hits from soul-tinged 2010 album The Defamation Of Strickland Banks.
His hard-hitting hip-hop record Ill Manors accompanies his film of the same name - a tale of life on the streets of London.
It went to number one in its first week of release in July and the rapper is aware such success could hinder his chances of winning the prize.
"Probably, but it's good enough to be part of this," said Drew after the nominations were revealed. "My name's on this list, this album and what this album represents. UK hip-hop is on this list."
Only two women made the cut in Lianne La Havas and Ware, who performed at Wednesday's nominations launch in London.
"I just wanted to make something that I would love in 10 years and still be proud of when maybe there isn't a music career," she said of her R&B influenced album.
Fellow nominees The Maccabees have tipped Ware to win, not least because they are old friends.
Guitarist Felix White said: "It's kind of bizarre. I'm just so happy that the girl I knew when I was 12, who said she wanted to be a singer, is here now. It's just a really beautiful thing."
The Maccabees are nominated for their third album, Given to the Wild - something that took a while to sink in, despite the record' s critical acclaim and top five chart position.
"It wasn't until we were outside and we were let in that we knew for sure. Hugo was saying, 'There's no way that people can take it back now!'" revealed singer Orlando Weeks.
"We've got a really early flight to Boston, we just don't want to miss that - but I think this warrants a little bit of celebration."
Kiwanuka said he had followed the Mercury Prize as a teenager.
"I love albums and I worked hard to try and really make an album," he told the BBC.
"The way we listen to music now, it's difficult sometimes to hear a piece of work as an album and this gives people the opportunity to do that. So it's such cool news."
Several heavily tipped records failed to make the list, including Kate Bush's 50 Words For Snow and Florence + The Machine's Ceremonials.
The shortlist's more esoteric choices include Roller Trio, dubbed "the new sound of British jazz", and folk artist Sam Lee, who sourced much of his music from the gypsy traveller community.
"I think I'm privileged that I'm not in competition with anybody," said Lee. "If I win, I win on account of being different.
"If I just stay as one of the nominees, then I'm there as a justified member of a group of would-bes."
Acts heavily tipped by their fellow nominees include Django Django, who said it was "amazing" to feature on such a "brilliant" list, and Alt-J whose drummer Thom Green sent a statement from New York calling their nomination "very surreal".
He added: "I want people to know if there's anything you want to do, just go out and do it. That's basically what I did, do what you want and do what you love."
Simon Frith, chairman of the judging panel, said the shortlist "showcases a wonderful variety of musical voices, emotions and ambitions".
This year Channel 4 takes over coverage of the event from the BBC. It will broadcast the ceremony, featuring live performances from each of the nominees, from its new home at the Roundhouse in Camden, north London.
The four-year agreement also includes a series of intimate Album of the Year Live gigs around London from the 12 shortlisted acts.