Toronto closes after very public festival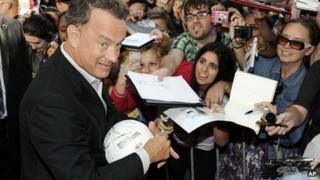 Film 2012 co-host Danny Leigh gives a round-up of this year's Toronto Film Festival, an event full of A-listers, premieres and screaming fans.
Two things have defined this year's Toronto Film Festival.
The first is that, unlike its European rival Cannes, this is a celebration of movies open to the public, not a closed-shop gathering of critics and executives. Those of us with press passes around our necks were constantly reminded of the importance of actual audiences.
The second is the sheer volume of films involved - a dizzying 372 of them.
Like a vast natural landmark, this year's festival has been so huge in scale that any one visitor could only see a fraction of the whole.
But even that offered a glorious sneak preview of next year's Oscar winners, hopeless turkeys, and maybe a hidden treasure or two.
Accompanying it all was another of Toronto's signatures - an endless parade of red carpet premieres attended by Hollywood's most gleaming.
To the wider world, it's often the stars that matter. This year's Toronto certainly supplied plenty of those, beaming dutifully for the massed ranks of cameras.
With just enough humour to take the sting out of his words, Cloud Atlas star Tom Hanks observed that the lot of the movie star at the festival was not unlike that of cattle on their way to market.
With every day boasting the presence of the shiniest A-list talent - Johnny Depp criss-crossing with Ben Affleck, Kiera Knightley giving way to Ryan Gosling - it might be easier to name those who were not here.
One of the hallmarks of walking the faultlessly clean streets of downtown Toronto in recent days has been the regular outburst of starstruck screaming a block or two ahead as another perfect face emerged onto another red carpet.
Things have often got loud, and never more so than at outside the screening of one of the festival's stranger pleasures.
This was Spring Breakers, a woozy story of college girls gone bad starring Vanessa Hudgens and Selena Gomez, whose fans brought a small corner of Toronto to a standstill.
Not that the adulation was confined to teen starlets. For one fan of philosopher Slavoj Zizek, waiting outside his new film The Pervert's Guide To Ideology, getting a ticket to see him speak afterwards caused her to burst publicly into tears.
But the real draw has remained the films themselves. For all the frustration of not being able to sample every morsel and all the mad dashes from one darkened cinema to another, the result has been a feast for any film lover as well as a glimpse of what might lie ahead on Oscar night.
Last week's festival opener was the cerebral sci-fi thriller Looper, a movie that typified the films at the heart of Toronto 2012: smart, high-end Hollywood product hoping to both please crowds and win over critics.
That combination hints at one reason for the festival's ever growing profile. With every film here shown both to critics and the movie-going public, it's possible to get a truly panoramic view of its prospects.
The difference in reaction can be startling. Probably the most dramatic came with the closing credits of Cloud Atlas, a genre-hopping adaptation of British writer David Mitchell's much-loved novel.
Its six interwoven stories and grand themes of karma and compassion got a tepid response from many critics, and the applause at their screening was brief and scattered.
Yet at exactly the same point just around the corner, the end of the public screening was being met with a three-minute standing ovation and audience members locked in hugs.
Elsewhere critics and audiences united. The big early hit for both was Argo, the true story of an audacious rescue of US diplomats from Iran during the 1979 hostage crisis.
Directed by and starring Ben Affleck, its reception launched it to the forefront of the Oscar race.
I found comedy drama Silver Linings Playbook contrived, but it had critics around me whooping and cheering.
Nods from the Academy appear certain, none more so than for the film's one bright spot, Hunger Games star Jennifer Lawrence.
For other films, the awards season race had begun before they even got here.
Director Paul Thomas Anderson's The Master came to Toronto with awards from the Venice Film Festival. Amid reports of hostility from angry Scientologists, this story of a sect leader and his acolyte cemented its reputation as a stunning feat of cinematic storytelling.
But more conventional prestige pictures fell flat. Midnight's Children - the showy, episodic tale of an Indian boy born the same moment his country gained independence, adapted from Sir Salman Rushdie's novel and narrated by the writer - received a packed gala premiere but proved less than compelling.
Sir Salman arrived in town himself to join an invading army of stars who left the Toronto streets spotted with black SUVs pulling up outside this or that movie house to unload the latest troops.
But none were in Canada for the maple syrup alone. They were there to sell their films - a process going on all over town, in public and in private.
British director Peter Strickland arrived for his first Toronto with his art-house horror movie Berberian Sound Studio, fresh from receiving five star reviews in the UK.
With the film poised to go international, he was plunged into a non-stop round of meetings and interviews.
"Toronto reminds me of school trips to Minehead where you're in some place new and exciting," he told me. "The only problem is you can't escape from the teachers."
At a different stage of his career, Brian De Palma was also working hard. Drumming up interest in his erotic thriller Passion - currently without a distributor in the US or UK - the Scarface and Carrie director held court with the air of a man looking on the bright side on working away from the studios.
"The studios would rather work with young directors they can control," the veteran film-maker said. "They don't want someone like me being old and crotchety and demanding final cut."
In the midst of the salesmanship, you never had to look far for signs of the city throwing itself into the festivities - the most obvious being the endless queues claiming half the sidewalks of downtown Toronto, filled with locals waiting for last-minute tickets.
Called rush lines - though like the city itself, unnerving in their good order - they always reminded you that a festival that actually involves ordinary movie-goers has a powerful energy to it.
A final word on the films? Well, on the evidence I saw here Argo looks set to make the sight of Ben Affleck grinning in a tuxedo a fixture of awards season.
The Master will have film lovers ruminating and celebrating for years to come - while at $100m (£77m), Cloud Atlas's gung-ho eccentricity might make it the most expensive cult movie in history.
But the hidden treasure only came with the very last film I saw - a little gem called What Maisie Knew.
This charming, impeccable story of a child observing her parents' break-up stars Julianne Moore, a note-perfect Steve Coogan and a scarily gifted seven-year-old by the name of Onata Aprile.