Stanley Long 'King of Sexploitation' dies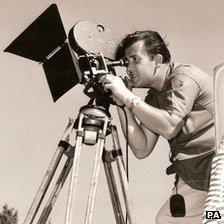 British film-maker Stanley Long, known for directing a string of low-budget sex comedies in the 1960s and '70s, has died aged 78.
Dubbed the "King of Sexploitation", Long directed such films as On the Game and Sex and the Other Woman.
He was also behind 1976 film Adventures Of A Taxi Driver - a rival to the hit Confessions films starring Robin Askwith - which spawned two sequels.
Long's family said he died of natural causes in Buckinghamshire.
The film-maker became a millionaire in his late thirties after producing movies that mixed bawdy comedy with female nudity.
His X-rated sex farces starred a number of household names, such as Diana Dors, Liz Fraser and Ian Lavender.
He also gave Shirley Valentine actress Pauline Collins her first big break.
Long began his career as a photographer for Picture Post. After serving in the RAF he began taking nude photos for a men's magazine.
He later turned to making movies with his company Stag Films, producing more than 150 shorts before moving to features.
West End Jungle, a 1964 documentary about Soho's sex industry, caused an outcry and remained banned by the British Board of Film Classification (BBFC) until 2008. The following year it was screened on BBC Four.
Recently Long worked with his post-production company, Salon, on such films as Batman Begins and V for Vendetta.