John Moores Painting Prize won by Sarah Pickstone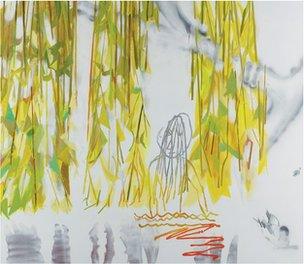 Artist Sarah Pickstone has won the £25,000 John Moores Painting Prize for a work inspired by poet Stevie Smith.
The award is billed as Britain's most prestigious painting prize.
Manchester-born Pickstone based the winning painting on an illustration by Stevie Smith to accompany her 1957 poem Not Waving But Drowning.
Judge Fiona Banner described the work, titled Stevie Smith and the Willow, as "an enigmatic double portrait that grapples with the creative self".
Banner, herself a Turner Prize-nominated artist, said: "It's a representation of the poet Stevie Smith in a deranged landscape.
"It's also a painting of one artist reflected through another, a meeting of literary and pictorial minds."
Pickstone picked up the award, which is handed out every two years, at the Walker Art Gallery in Liverpool, as part of the Liverpool Biennial.
The painting of a girl bathing in the water under an old weeping willow tree is based on the illustration of a girl that Smith used to accompany her poem, which Pickstone said "might represent some kind of everywoman - an artist or mother or child".
"It's a very dark poem," she said. "The poem was one of many sources for the painting, I've always been intrigued by Stevie Smith and how she worked, and I had a sense of wanting to make something more joyous out of the poem."
Previous winners of the award include David Hockney, Richard Hamilton and Peter Doig, while Sir Peter Blake, who won the junior section in 1961, is now the prize's patron.
Pickstone, who was also nominated in 2004, is the first female artist to win since Lisa Milroy in 1989.
She was chosen from more than 3,000 entries. Other nominees included Ian Law, Narbi Price, Stephen Nicholas and collaborative duo Emma Biggs and Matthew Collings.
Fiona Banner was joined on the judging panel by fellow Turner Prize-nominated artists George Shaw and Angela de la Cruz, plus BBC creative director Alan Yentob and Whitechapel Gallery director Iwona Blazwick.
Yentob said the entries proved the art of painting was "alive and well and bursting with ideas".
"The selection was tough because the quality was high, but the jury was especially impressed and heartened by the creativity and conviction on display in the final five prize winners," he said. "Yes, painting still matters."