Sophie Lancaster radio drama adapted for stage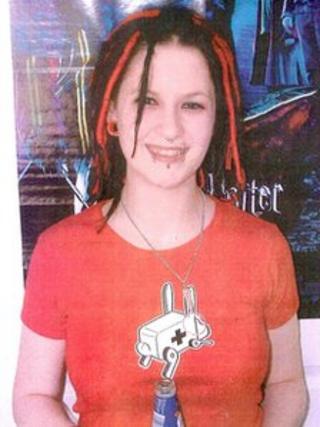 An award-winning radio drama about the murder of 20-year-old Sophie Lancaster, who was killed in a Lancashire park in 2007 for being a goth, has been adapted for the stage.
"The reaction to the radio play was greater than for any other project I've ever been involved with," says Simon Armitage, which is quite something coming from one of Britain's most popular poets.
Armitage told Sophie Lancaster's story, from birth to violent death, in a series of powerful poems that were broadcast on BBC Radio 4 last March.
"It was immediate," he says of the reaction. "People were phoning in to the BBC switchboard on the day, writing in, emailing, getting messages to me afterwards about how much they'd been affected by the whole thing.
"If there's ever a signifier of whether something on radio has caught people's attention, it's where people get in touch and say 'I was driving the car but I had to pull over', or 'I'd got to where I was going but I had to stay in the car until the programme came to the end'.
"I can't tell you how many hundreds of people got in touch with me and told me that had happened."
Few recent dramas can have carried such emotional force as that play, in which Armitage's words, spoken by Rachel Austin, were edited together with clips of a real interview with Sophie's mother Sylvia.
It is now being staged at the Royal Exchange Theatre in Manchester, with Austin again portraying Sophie and Julie Hesmondhalgh, better known as Hayley Cropper from Coronation Street, playing Sylvia.
Sophie and her boyfriend Robert Maltby were in a park in Bacup, Lancashire, on a Friday night in 2007 when Maltby was beaten by five teenage boys in a vicious, unprovoked attack. Two of them then kicked and stamped on Sophie when she tried to protect him.
Robert survived but Sophie died in hospital two weeks later.
Sentencing the attackers, Judge Anthony Russell QC described it as "a hate crime against these completely harmless people targeted because their appearance was different to yours".
Armitage got in touch with Sophie's mother after reading about the trial, he says.
"This was a young girl who was just on the point of entering her adult life, full of potential and full of possibilities, and she seemed to have been attacked simply because of what she looked like and because she was a bit different," he says.
"It was something I just felt I had to speak out about, and maybe I identified with her.
"I recognised myself, maybe, at that age, not wanting to live a conventional or normal life but always being worried that in certain communities, to swim against the tide is to take a bit of a chance."
To put himself in Sophie's shoes, Armitage spent several days listening to Sylvia talk about her daughter's life and the events of that night in August 2007.
He wanted to give Sophie a voice because she could no longer speak for herself, he says, and had some trepidation at how her mother would react when he handed her the completed poems.
But she gave him her full blessing, and said Armitage had captured Sophie's attitude and tone of voice. "It's actually like listening to her," Sylvia said.
Sylvia had already set up a charity, the Sophie Lancaster Foundation, to do work in schools encouraging tolerance and to campaign for a change to hate crime laws to cover members of alternative subcultures, such as goths.
Armitage says he hopes the stage play keeps Sophie's story and the campaign in the public eye.
Julie Hesmondhalgh, whose role in Coronation Street has helped increase understanding of transsexual people, agrees.
She already knew Sylvia Lancaster through previous work with the foundation. "I'm trying to get a little bit of her steel and spirit and compassion, and to try and make universal what it was in her that turned this terrible tragedy into something positive for the future," she says.
Hesmondhalgh, too, was "blown away" by the radio play, but believes the stage version will tell Sophie's story in a new way.
"This gives you a very three dimensional look into what she was like as a baby and a child and a teenager and about their relationship," she says. "I think because of that, you feel the loss even more strongly. She's a fully rounded person and you lose her too."
Black Roses: The Killing of Sophie Lancaster runs from 19-29 September at the Royal Exchange theatre in Manchester. Simon Armitage's poems have been published under the same title by Pomona Books.