Fifth Resident Evil film tops US film chart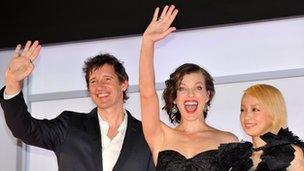 The fifth Resident Evil film has debuted at number one on the US box office chart, taking $21.1m (£13m), according to early estimates.
Resident Evil: Retribution, stars Milla Jovovich once again as warrior Alice in the video game-based franchise.
The 3D film was directed by Jovovich's husband, Paul W S Anderson, who has made three of the five films.
The 3D re-release of Disney Pixar's Finding Nemo opened at number two, taking $17.5m (£10.7m).
Featuring the voices of Ellen DeGeneres, Willem Defoe and Albert Brooks, it won the Academy Award for best animated feature following its original release in 2003.
Meanwhile, Paul Thomas Anderson's Scientology-inspired movie The Master has broken the per-screen record for a live-action film in its debut weekend.
According to early estimates, the film took $729,745 (£449,862) at the North American box office, despite only opening in five cinemas.
That works out as an average of $145,949 (£89,968) per viewing.
The film, starring Philip Seymour Hoffman as a cult leader, will open in more screens in the coming weeks.
Box office analyst for Hollywood.com, Paul Dergarabedian, said he was surprised Finding Nemo didn't top the chart, given the strong opening last year of Disney's The Lion King in 3D, which debuted at number one with $30.1m.
Last week's number one, The Possession, fell to third place, taking $5.8m (£3.57m).
The Master, which also stars Joaquin Phoenix, opened in a handful of screens in Los Angeles and New York.
"We knew we would do a lot of business but we didn't think it would be this big," said president of theatrical distribution at the Weinstein Company, Erik Lomas.
"We knew we had something special. But you can never expect these kind of numbers - it blew the door off theatres."
It beat Wes Anderson's Moonrise Kingdom, which made $522,996 (£322,388) when it opened on four screens in May with an average of $130,749 (£80,597) per screen.
The Master won several awards at the Venice Film Festival earlier this month.
Scientologists in Hollywood tried to derail the movie, which was inspired by the religion's founder, the Weinstein Company claimed last week.
Unnamed Scientologists applied "lots of pressure" to stop The Master being made and have it changed once filming began, studio head Harvey Weinstein said.
Anderson has stated that The Master was partly based on L Ron Hubbard, who founded Scientology in the 1950s.
Related Internet Links
The BBC is not responsible for the content of external sites.